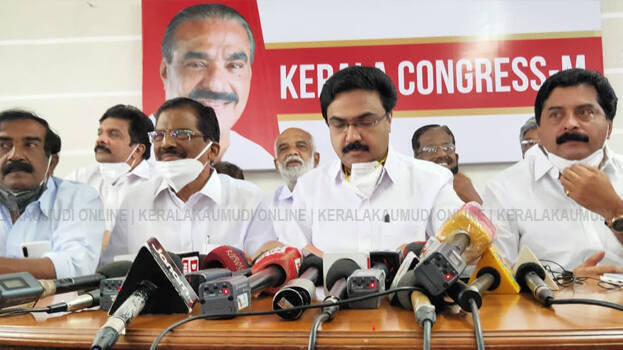 KOTTAYAM: The Kerala Congress (M) has decided to join hands with the LDF, said Jose K Mani. The Left Front has been able to resist the communal backdrop. He said the Left government had taken a sympathetic stance in the agricultural sector. He has also resigned from the Rajya Sabha.
The Kerala Congress has taken an independent stand since its expulsion from the UDF. It was K M Mani who built up the UDF. The Kerala Congress stood with the UDF for 38 years in their ups and downs. The UDF insulted K M Mani, his politics and the people who stood by him. There was severe injustice from some quarters in Congress. Cheated the Kerala Congress in Pala bypolls. Our MLAs were insulted in the assembly. We had not made public any complaints. However, none of the complaints were considered by the UDF, alleged Jose K Mani.
When P J Joseph knew that Mani Sir was sick, he asked the Lok Sabha seat and then the Rajya Sabha seat. He was adamant on the Pala seat. They also wanted to make Mani Sir's house into a museum. They tried to seize the state committee office. The leaders kept mum when tried to hijack the party. The congress gave a silent support to P J Joseph.

The Kerala Congress was ousted from the Front in the name of a panchayat. This is unheard of in the history of India. All know the decision of the Kerala Congress to leave the UDF in 2016. The words of K M Mani then are relevant even today. He said at that time the main enemy of some leaders in the congress was the Kerala Congress. Now showers love to Mani Sir. We didn't see that when we were ousted. No talks were held to bring us back. He said not a single formula was put forward, he said.
The UDF never approached our MLAs at the time of the Rajya Sabha polls. Their agenda was to eliminate Mani's party. My strength is the people with me, he said.
No talks were held with the Left Front. We just informed our political stand. They should inform their stand again. There will be a change in the Kerala politics. The UDF came to power through the huge support of central Travancore and so it should not be taken lightly. The congress stabbed us from behind. Pala is close to my heart. We will decide after the Left Front informs their stand. We all know how the case against K M Mani came. One of the best agencies in India is probing the gold smuggling case, he said.