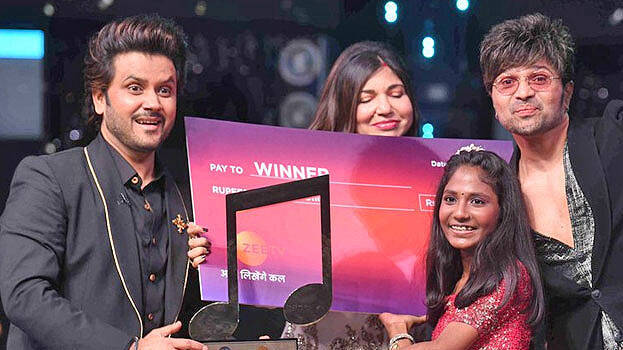 Aryananda Babu from Kozhikode in Kerala won the coveted trophy of Sa Re Ga Ma Pa Li'l Champs 2020. She gave a tough competition to Ranita Banerjee and Gurkeerat Singh and went on to win the singing competition which has regaled music lovers for decades now. It has to be specially mentioned that Aryananda cannot speak Hindi but won the top prize in a show where only Hindi songs are sung. Through her singing she has proved that music has no barriers.
She won a cash prize of Rs five lakh.
Aryananda won the hearts of the three judges-- Himesh Reshammiya, Alka Yagnik and Javed Ali from the beginning.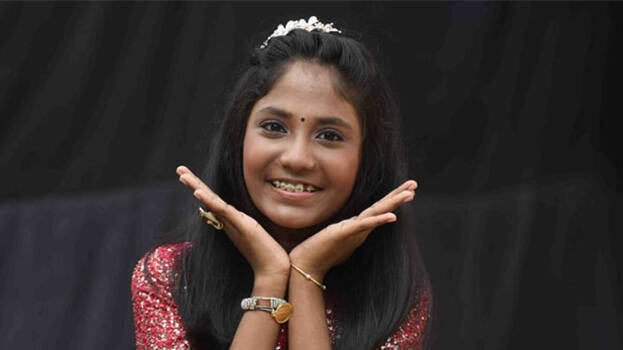 The episode also saw special guests Jackie Shroff, Shakti Kapoor and Govinda sharing anecdotes from their shooting days, making the finale a perfect dose of nostalgia.
Soon after her win, she said, "This is honestly a dream come true for me. The entire journey has been a great learning experience, and I am immensely grateful to the mentors and judges who have constantly supported and helped me understand my potential as a singer. As I end this memorable journey, I am truly going to treasure the friendships that I have made, the knowledge that I have gained and most importantly the relations that I have built with the judges and jury members for life. I am extremely delighted to have received this opportunity to showcase my talent."ajesh Babu
Arynanda also got a chance to sing in two Hindi films and two Malayalam films. Singers Sujatha and Sreenivasan called her to congratulate her soon after the win.
Kumar Sanu, Udit Narayanan and Alka Yagnik were the judges at the beginning of the show. They opined that she will become a best playback singer. She singing Satyam Sivam Sundaram had gone viral in the social media.
When the show started after the lockdown, music composer and singer Himesh Reshammiya, Alka Yagnik and Javed Ali were the judges.
Neha Kakkar who came as a guest took a selfie with her and then posted the picture in Instagram.


She is a seventh standard student of Kadalundy Ideal Public School. She is the daughter of music teachers Rajesh Babu and Indu. She was adjudged winner in school, district, state and national music competitions. She was the first runner up in a reality show of Zee Tamil Channel held last year. She has performed in almost 450 stages in and out of Kerala.
She said the first audition was in Kochi. She went to Mumbai after she was selected. I don't know Hindi fluently. All including the groomers were north Indians. I managed talking in English. After some episodes, I was able to understand Hindi, but was not able to speak. My Hindi pronunciation was very bad. All juries told me about that before the final audition. Later I started concentrating on that. Though I used to sing Hindi songs at home, there was no one to correct my pronunciation.
The competition started in February. The competition stopped due to COVID-19 in March. It started later in July. I was in Mumbai itself. I had to stay there without my mother. I never used to stay anywhere without my mother. I faced a lot of difficulties. I practiced a lot at that time. My parents are my guru. My father is running a music school named Nisari School of Music. There are many students in the school but is closed due to the epidemic now.


All congratulated me when I sang the song 'Satyam Sivam Sundaram'. Alka Agnik madam came to the stage and gave me a kiss. A poet came as a guest in one episode. I was happy when he said that won't understand that the girl singing doesn't know Hindi. I want to become one of the top most singers.
Though I like all types of songs, I am more interested in melodies and semi-classical songs.
I had gone for Chembai Music Fest in Guruvayur along with my father. My father goes there every year. Seeing them singing, I too wanted to sing. My arangettam was at the age of two and a half years old. I sang 24 songs continuously at Kozhikode Town Hall some years back, she said.