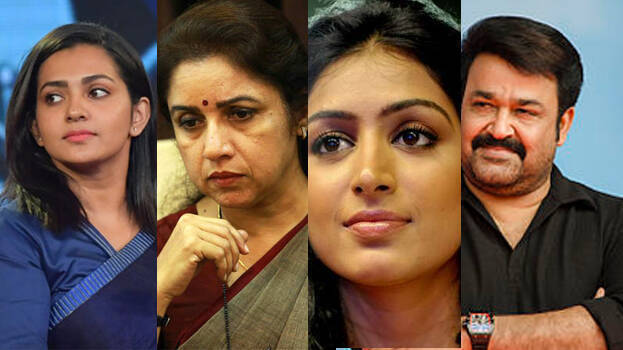 KOCHI: Women in Cinema Collective (WCC) has sent an open letter to Malayalam film stars' organisation AMMA, taking exception to its general secretary Edavela Babu's comment on the attacked actress, during a recent interveiw.

Actresses Revathy and Padmapriya have sent the letter to AMMA's leadership.

Revathy later posted the letter on her Facebook page.
The FB post:

"Friends,
Yet again we are faced with an attitude from within our industry and we have to talk about it in public. Seems the only way these days to change the attitude of our own colleagues towards co workers-women.

The resignation tendered by our colleague Parvathy as a member from A.M.M.A yesterday has taken us back to a journey that began in 2018 with the survivors' resignation. A journey embarked upon with a lot of pain but also with the hope of creating constructive awareness of issues of women as actors in the film industry. Those efforts have been effective in some ways because it created a space for discussions in the public forum that has never taken place before. The only common thread missing every time in this process has been the inability of the A.M.M.A leadership to engage and/or take constructive decisions or actions.

Like in the past the recent interviews by the general secretary of A.M.M.A once again sets a dangerous example. An example that some of the members in the A.M.M.A leadership can use their position to disparage a criminal investigation that is sub judice. An example that as the only organisation in the film industry with close to 50 per cent women members there will be no measures taken to protect, support and encourage them. Instead it appears that all efforts will be made to alienate and ridicule them and their issues in public. An example that no matter how adverse a scenario A.M.M.A faces collectively as an organization the entire leadership will stay quiet.

In the last two days our colleagues, media and family have been asking both of us what do we want to do. Amidst the chaos of tending to urgent personal and professional commitments, we paused and thought – is this about Padmapriya, Revathy or any other A.M.M.A member responding, not responding, resigning or continuing a dialogue? Well, perhaps yes. But in the given context this is about not just that. It is time for the A.M.M.A leadership to first share their stand. Instead of questioning us, it is time they question themselves and share their views with all of us.

Both of us have sent a letter to each one of the members in the leadership (listed at the end of this note) with the following questions:
1. What is their stand as individuals and as part of A.M.M.A leadership towards - Mr. Edavela Babu's interviews in the media over the last few days and the endorsement of the same by the Vice President Mr. Ganesh Kumar.
2. What will be the action taken when some members of the leadership behave in a fashion that discredits A.M.M.A and the film industry as a whole?
3. In light of the general secretary's response to the sexual harassment allegations against A.M.M. A's executive committee member Mr. Siddique - has the leadership institutionalised the POSH Act that prevents harassment and protects women in their workplace?
"Peace in patriarchy is war against women" – Maria Mies
#Avalkoppam #SpeakUpAMMAleadership
Revathy & Padmapriya

A.M.M.A Leadership 2018-21: – Mohanlal, Mukesh, Jagadish, Aju Varghese, Asif Ali, Baburaj Jacob, Honey Rose, Indrans, Jayasurya, Rachana Narayanankutty, Shwetha Menon, Sudhir Karamana, Tiny Tom and Unni Shivapal.