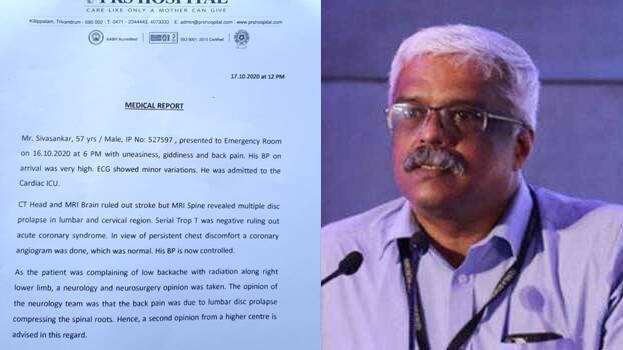 THIRUVANANTHAPURAM: Angiogram of M Sivasankaran, former principal secretary of the chief minister, who was hospitalised following physical uneasiness while in customs custody, has been completed. The hospital where his angiogram was performed has also issued a medical bulletin briefing his health condition. The hospital has conducted his angiogram as there was a slight variation in his ECG.
The medical bulletin issued by the hospital says that there is nothing to worry over Sivasankar's health condition. Sivadankar has dizziness and back pain. He is still undergoing treatment in the cardiac ICU. His blood pressure has normalised. The medical bulletin also says that it will seek experts opinion on Sivasankar's health condition.
The department will enter into further proceedings only on the basis of the medical bulletin. Sivasankar felt uneasiness following the department taking measures to record his arrest. Earlier he was summoned by the agency in his own vehicle. But on Friday, the agency summoned him in their own government vehicle. If customs had made a move to arrest him he might not have received bail as Sunday and Saturday are off-days.