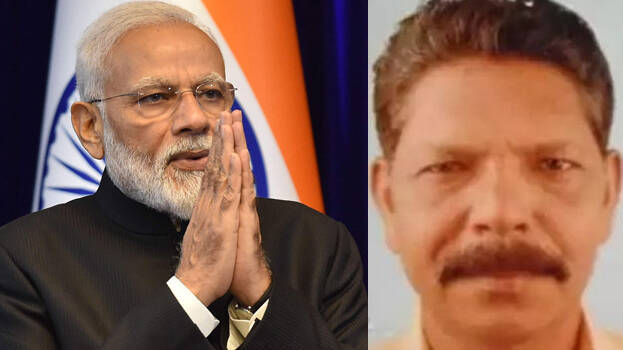 KOCHI: Prime Minister Narendra Modi has always been reminding the nation that the real fighters of Covid 19 are the health workers. Prime minister has also asked people to show them the nation's respect through symbolic gestures such as striking with steel plates and lighting candles. But PM has proved that he won't limit the country's courtesy to the hardworking health workers just through symbolic gestures.
The central government has issued the insurance amount of Rs 50 lakh for health worker Sadanandan from Kerala, who died in the line of duty of state government's Covid 19 prevention programme. The central government has already deposited money in the bank account of Sadanandan's family. After immediately filing the necessary documents, Sadanandan's family received the financial assistance as insurance claim under the prime minister's Garib Kalyan Yojana.
Sadanandan joined in health department as a part-time sweeper in 2002 and in retired from Aluva district hospital as a nursing assistant on January 31st, 2019. But Sadanandan who was honest and worked efficiently was again re-appointed on February 25, 2019, on the decision taken by hospital development board.
Sadanandan worked in the mortuary of Aluva district hospital, where hundreds of dead bodies of Covid 19 victims reached when the pandemic went to uncontrollable levels in Eranakulam district. Sadanandan who was a diabetes patient also contracted Covid-19. He was admitted in Aluva district hospital on suffocation and he was later shifted to ICU but by August 17 he passed away. As a mark of respect to him, a mango tree was planted in the garden of the district hospital.