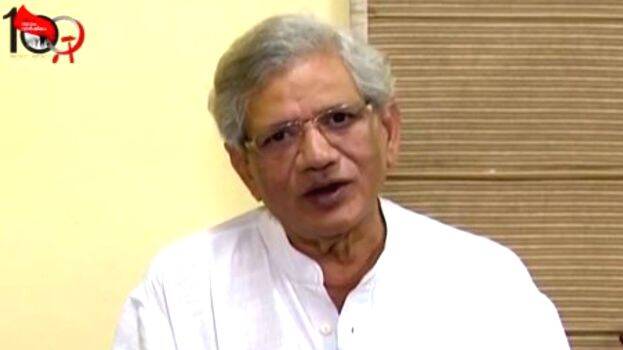 THIRUVANANTHAPURAM: While the Constitution of India envisages the government to be secular, today's experience shows that the government is attempting to make the country religious, CPM General Secretary Sitaram Yechury said. Speaking after inaugurating the 100th Anniversary celebration of the Communist party, Yechury said that those who tried to establish a Hindu Rashtra during the freedom struggle are still doing the same.
"India needs a new struggle to ensure that it does not go back to the old darkness. The Communist Party had made many interventions to give direction to the freedom movement and to shape post-independence India. The slogan 'Purna Swaraj' was first raised by the Communist Party at the Ahmedabad convention of the Congress. Though Gandhi and others initially rejected it, it was later accepted," Yechury said.
"It was Savarkar who demanded the partition of India into Hindu-Muslim nations even before Muhammad Ali Jinnah demanded it. The RSS had no role in the Indian freedom struggle. Now, people who had no involvement in the freedom struggle are spreading false propaganda that the Communist Party was against the Quit India movement. During his speech in the Parliament on the occasion of the Golden Jubilee of the Quit India movement, the then Indian President responded to this. Eighty of the prisoners in the Andaman prison were communists," he added.
"Nowadays, the weakness of secularism is being used for communalism by undermining the fundamental values ​​of the Constitution and destroying federalism and social justice. The administrative and judicial systems and the Election Commission are being turned into tools. Minorities and Dalits are being attacked. The encroachment of one religion on another is a violation of the Constitution. It is high time for a new struggle to ensure that the country does not go back to those dark days," Yechury said.