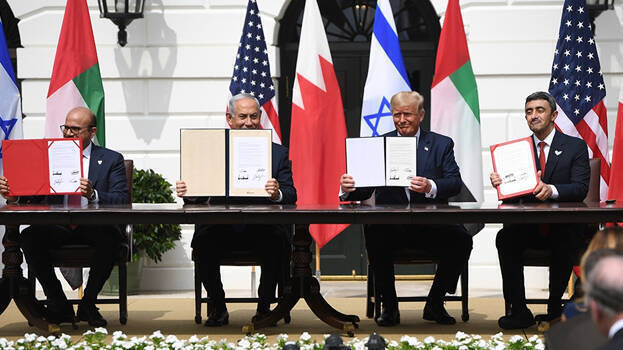 JERUSALEM: Israel and Bahrain on Sunday agreed on a formal deal to establish diplomatic relations, close on the heels of a deal between the Jewish state and the United Arab Emirates (UAE). This makes Bahrain the fourth Arab state to establish ties with Israel. Jordan and Egypt were the first two to have established peace deals with Israel. This was followed by UAE this year, which became the first Gulf country to establish formal relations—part of a deal to halt the controversial annexation of parts of the West Bank that Palestinians see as a part of their future state.
Bahrain had joined the United Arab Emirates at a festive White House ceremony last month marking the Abraham Accords, a pair of US-brokered diplomatic pacts with Israel. Full details of the agreement between Israel and Bahrain are still murky, but expected to come out soon. A joint American-Israeli delegation headed on Sunday for Bahrain, where officials will be signing a number of bilateral agreements following an announcement last month to normalise relations. US Treasury Secretary Steven Mnuchin and Prime Minister Benjamin Netanyahu's national security adviser, Meir Ben-Shabbat, led the delegation that flew out of Tel Aviv's Ben Gurion airport.
These deals are considered diplomatic coups for the Trump administration and for Netanyahu. But they have come under heavy criticism from the Palestinians, who have long counted on a unified Arab stance that recognition of Israel should come only after the Palestinians achieve an independent state of their own. The agreements reflect a shifting Middle East, in which shared concerns about Iran and business opportunities have overshadowed the Palestinian issue.
Israel could very well continue with this diplomatic onslaught in the region. Israel has long courted African support. In exchange for its expertise in security and other fields, Israel wants African states to side with it at the UN General Assembly and other international bodies that have long favored the Palestinians. Israel renewed diplomatic relations with Guinea in 2016. Netanyahu visited Chad for a renewal of ties in 2019. Talks are underway with Sudan for a similar deal.