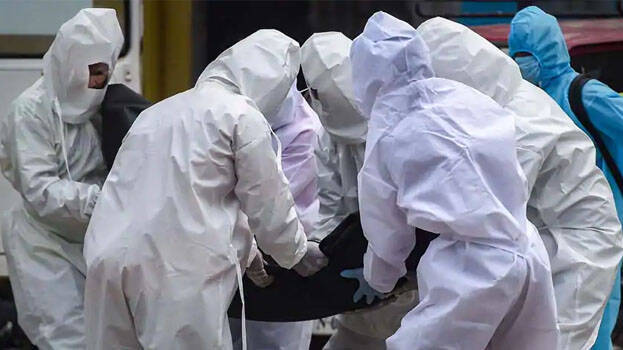 NEW YORK: The number of confirmed cases of Covid-19 across the planet has passed 40 million. The milestone was passed early Tuesday according to Johns Hopkins University, which collates reports from around the world.
Total Confirmed Cases: 4,10,22,382
Change Over Yesterday: 421,328

Total Deaths: 11,28,896
Total Recovered: over 55 lakh
Nations hit with most cases: US (8,050,140), India (7,432,680), Brazil (5,200,300), Russia (1,361,317) and Argentina (965,609)
The actual worldwide figure of Covid-19 cases is likely to be far higher, as testing has been variable, many people have had no symptoms and some governments have concealed the true number of cases. To date, more than 1.1 million confirmed virus deaths have been reported.
The US, Brazil and India are reporting by far the highest numbers of cases, although the increase in recent weeks has been driven by a surge in Europe.
Total Covid-19 cases in the US topped 8 million, Johns Hopkins University data showed. There were 63,330 cases reported on Thursday, the most in more than two months. Cases nationwide have been rising since mid-September, after a summertime peak as the virus spread through the Sun Belt. The trailing seven-day average of cases rose by almost 9 percent this week compared to the previous week, illustrating the upward curve faced by the US in less than three weeks before the general election.
As cases reach records across Europe, the UK and France are avoiding nationwide restrictions. Londoners will be banned from mixing with other households indoors, while people in Paris and eight other French cities will be confined to home between 9 pm and 6 am for four weeks. Italy's Lombardy region, which includes Milan, reined in alcohol consumption and gambling.