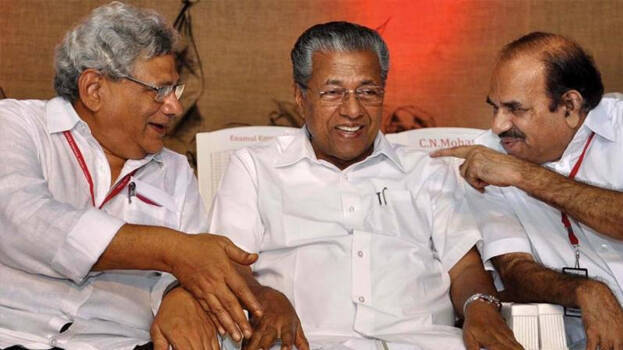 NEW DELHI: CPM Polit bureau has decided to put a bar on CBI in Kerala. CPM's apex body evaluates that the probe agencies are being politically misused by the Centre. The party has decided to officially proclaim its stand after receiving proper legal advice on the issue. CPM leaders who took part in polit bureau meet also held the view that Congress has also taken a similar stand on CBI. Senior leaders of CPM also said that a detailed discussion on the issue is not needed in the party's central committee.
The LDF government in Kerala has received legal advice earlier, which gave nod to bar CBI from taking up suo moto investigation on cases. The party polit bureau's decision comes after this development. CPM state secretariat and CPI were the first to demand to put a bar on CBI if it takes up investigation of cases without government nod.
In 2017, the state government has given public consent letter to CBI, giving nod to the agency to take up suo moto probe in any case. If the ban comes into effect, then the premier probe agency might have to seek the government's consent for any probe in the future. If the government denies nod then CBI might have to approach the court.
In the legal advice, given by Advocate General and Director General of Prosecution, it is said that the government need not make a special law to cancel the public consent letter given to CBI and it could be done through a cabinet decision. But if CBI seeks court's intervention to the issue, then the government's ban may not produce the desired effect.
The CBI investigation into life mission scandal, which prompted the government to impose a ban on the agency's investigation, is currently under the consideration of the court. The government also thinks that if measures are taken to ban the agency at such a time when most of the cases being probed by the agency are under the court's consideration, it would backfire.
Meanwhile, the Kerala division of CPM has ended its stiff opposition for an alliance with Congress in Bengal. With this, CPM PB has also given nod for an alliance with Congress. Adhir Ranjan Chowdhury, who was re-appointed as the PCC chief of Congress in Bengal has expressed interest for an electoral pact with CPM-led left alliance in the state. Kerala's change in the stand over politics in Bengal comes after this.