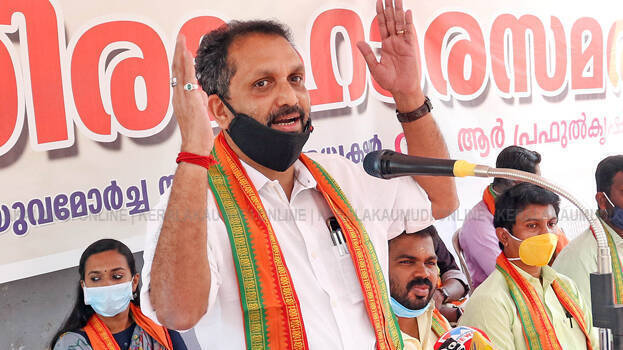 KOCHI: Chief Minister Pinarayi Vijayan should resign in the wake of M Sivasankar, former principal secretary to the chief minister, taken into custody in the gold smuggling case, said BJP state chief K Surendran. The chief minister is the first accused in the conspiracy in gold smuggling case. He just executed the directions of the chief minister. The chief minister and some additional secretaries have a role in the gold smuggling. If a proper inquiry has to be conducted, Pinarayi Vijayan should step down from the post, said Surendran.
Sivasankar and Swapna stood as mediators for the gold smuggling. Sivasankar and Swapna flew abroad before the chief minister went abroad. They had spoken to many famous industrialists. Money flowed to Kerala in the name of many voluntary organisations. I don't think Sivasankar alone conspired all this, he said.
Sivasankar cannot go abroad without the consent of the chief minister. It is not possible to communicate abroad also. Will not be able to get financial help and to bring money to Kerala. A part of the money brought went to Life Mission. Financial help came for Life Mission as a result of discussions held abroad by Sivasankar and Swapna. If probe is to be completed properly, other financial help obtained in Kerala should be examined and it should be ascertained which organizations are behind this. A probe should be conducted on how much of financial assistance reached Kerala after the floods.