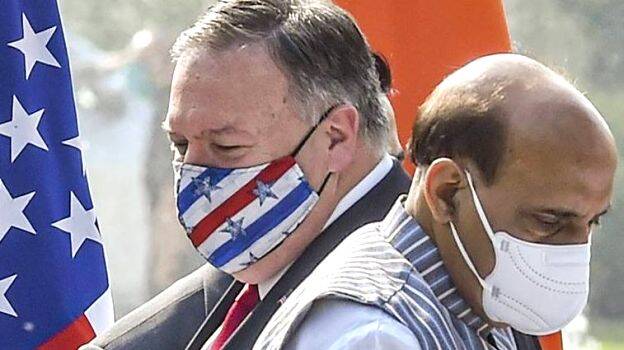 The military agreement signed with the United States is of extreme importance amid mounting threats from neighbouring countries, especially China, to the country's sovereignty and independence. Under the agreement, India will now receive strategic information from US spy satellites to monitor China and Pakistan. Like China, the terrorist threat from Pakistan is also a threat to us.
If there is failure in resist threat posed by two countries, it would be a challenge to the world peace and this awareness is what made India - US military agreement possible.
The agreement was signed to help India access advanced military technology, aerospace maps and intelligence, including intelligence from US military satellites. Secretary of State Mike Pompeo's declaration that the United States is committed to standing with the Indian people and providing the necessary military assistance whenever they are threatened by hostile nations is very valuable for India in the current context.
China is continuing its wickedness which was started recently along the border.
China's territorial expansion plan is not a new thing and its intention is to become Numero Uno in the world in all undesirable things. They are growing as a power that is posing a threat to the world peace. They are also taking provocative stand at military level. And of late, they are said to be the source of Corona virus that has engulfed the whole world.
What the US representatives made in New Delhi is the call for standing together against China's tyranny.
Mike Pompeo clarified that the strategic agreement was being signed to reign in China.
US secretaries visit to New Delhi shows that there will not be any change in the US stand towards India, even if there is a change in the government.
Therefore there is a big importance for the signed agreement. This is the fourth agreement being signed by India and the US in recent times.
From now on, India will be able to monitor the military movements, military bases, movement of warships of China and other enemy countries with the help of US' spy satellites and other information sharing mechanism. Pakistan's terror camps will also come under the radar.
As per the agreement, India will also get most modern drones.
India's participation is important in making a big alliance against China in the region. There is also such an intention behind the agreement.
As Indian borders are becoming worrisome areas due to enemy's movement on the other side of the border, it is desirable for India to cement the ties with the US.
It is also a matter of pride for us to outsmart the move of any country to question our nation's sovereignty. There is nothing wrong in seeking the help for this from any corner.