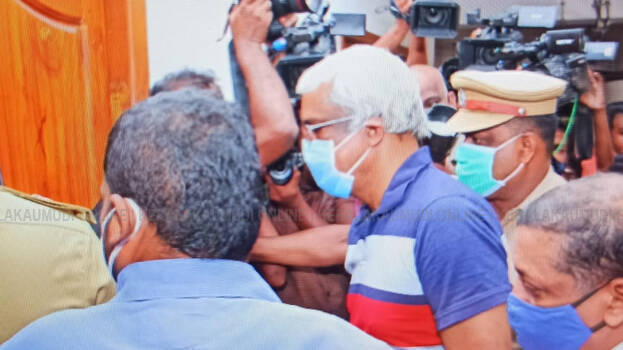 KOCHI: A court on Thursday granted the Enforcement Directorate (ED) seven day custody of suspended IAS officer M Sivasankar, arrested by the agency probing the money trail in the Kerala gold smuggling case.
Sivasankar, who was arrested by the ED on Wednesday night, was produced before the Ernakulam Principal Sessions Court on Thursday morning.
Although the ED sought 14-day custody of Sivasankar, who has been named fifth accused in the case, the court granted the agency his seven day custody.
Earlier in its arrest order, the agency has claimed that Sivasankar has been guilty of an offence punishable under the provisions of the Prevention of Money Laundering Act.
He should be questioned only for three hours, should be allowed to take rest in every three hours, should not be questioned after 6 pm, should ensure ayurvedic treatment for him, the court told the enforcement.
Meantime, his lawyer told the court that Sivasankar has severe back pain and did not oppose his custody plea.
Some dramatic scenes were witnessed in the district court. Sivasankar went near the judge and spoke to him. It is not right to say that I am not cooperating with interrogation. Continuous questioning should be avoided, ayurvedic treatment should be ensured, should allow me to meet my family while in custody and should allow me to lie down in two hours, he said.
The ED told the court that he is not cooperating with the interrogation and disagreed to have food. A special sitting was held for considering the case as the court was closed today.
The arrest memo of ED mentioned that he had intervened for the release of the diplomatic baggage. They found that he had called the customs for it. The ED said this proves his role in the gold smuggling. The memo also mentioned that Sivasankar controlled and handled the financial dealings of Swapna.