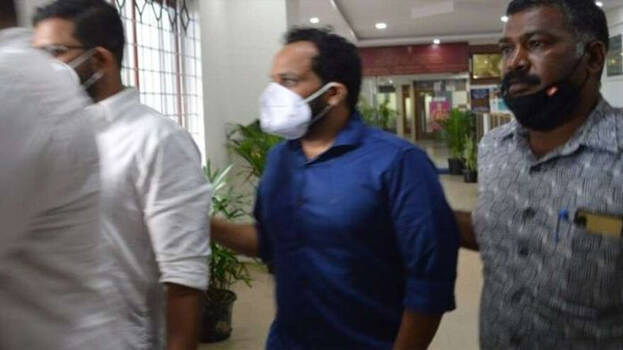 BENGALURU: It has been found that Bineesh Kodiyeri and Muhammed Anoop spoke many times on the day Swapna Suresh was arrested in the gold smuggling case. This helped the investigating agencies to turn the probe against Bineesh. The enforcement is examining in detail whether the gold smuggling team has any links with the Bengaluru drug mafia.
The enforcement Kochi Unit questioned Bineesh for nearly 11 hours as part of it. After that the Bengaluru unit questioned and left him. Later when Anoop was questioned, the noose tightened against Bineesh. Both their statements were contradictory. He was arrested yesterday after seeking an explanation on it.
Some of the accused had stated that Bineesh got commission from UAFX solutions in connection with visa stamping in the capital city. It was also alleged that Bineesh along with Anoop hosted a night party at a hotel in Kumarakom.
It was found that 50 lakh came to Muhammed Anoop's account with the knowledge of Bineesh Kodiyeri. Anoop told ED that Bineesh knows the source of the Rs 50 lakh that came from 20 accounts. Anoop steered the drug business using the money obtained via bank accounts. The NCB probing the drug case will register a case against Bineesh.
The officials sent away his friends while questioning Bineesh. With this, came the indications that he would be arrested. At around 2.30 pm, the ED officials took Bineesh in a car with the escort of the police. He was produced in the city sessions court at 3.30 pm after COVID tests.
The preparations for the arrest started following the inconsistency in the statements of Anoop and Bineesh. The officials seized his phone after he gave contradictory statements. His arrest was registered after all details in the phone were found to be destroyed.