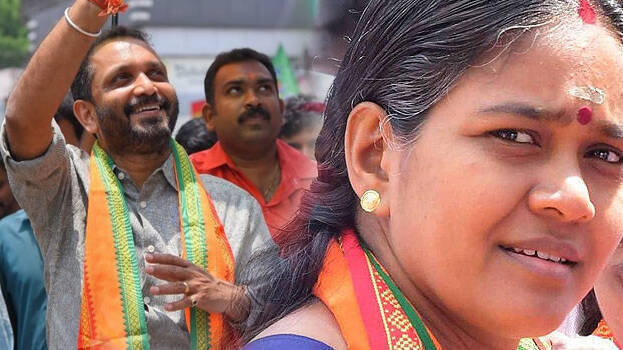 THIRUVANANTHAPURAM: BJP central leadership has given the baton to lead the party to youngsters by choosing K Surendran as the party president. Delhi leaders have also given a detailed list of guidelines to choose other office-bearers in the party. These include—giving more consideration to youngsters, ignoring those who were office bearers for a long time, expelling those who are facing serious allegations of financial fraud or other kinds of allegations and putting those who are above 70 years on the backseat. The recent reorganisation in the party was based on these guidelines. But as the local body polls are around the corner, a rebellion has risen in the state unit of BJP.
But sources say that central leadership won't intervene over the in-party skirmish in Kerala. The opposing voices emerged in the state leadership when the party is actively involved in protest programmes against the state government. Those leaders who were dissatisfied with party organisation has raised the flag of rebellion in the last few days. If central leadership intervenes to solve grievances of leaders, it would be a contrary step against its own guidelines for party reorganisation. This could also be another reason for central leaders cold response to Kerala unit's issues.
Senior leaders like the vice president, Shobha Surendran and member of the party's national council P M Velyudhan has made strong remarks against the state leadership. The central leadership is busy with Bihar polls. Even if the central leadership make any intervention it would be only after the Bihar polls. Chances for revisionist measures are also minimal as the reorganisation is done in accordance with the pre-approved guidelines.
Earlier, the central leadership has asked to take general secretary A N Radhakrishnan, who was later made as vice president, to the national core committee but no such recommendations were made by central leaders on Shobha's case. That is the reason why the state leaders are raising allegations against B L Santhosh, the general secretary of BJP who was entrusted with Kerala affairs. They think, at a time when the state leadership of the party is going on with fierce protest and criticisms against the government, central leadership won't take a step which could derail their morale.