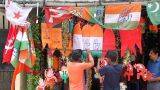 The date for the local body elections that happens once in five years in Kerala state has been announced. The fact is that even before this, the excitement and its ripples have reached everywhere.
Voting will take place in three phases on December 8, 10 and 14 though Covid fears persist. With the Assembly elections dates falling in April or May, campaigns for local body elections are gathering momentum.
As Kerala is one of the states where the prevalence of the disease is still a reality, the State Election Commission has kicked off election process with very strict guidelines. The procedures to be followed starting from submission of nomination papers to the counting of votes have been issued. If things go according to the plan, the election will be over without any fear or hassle.
Candidates and activists as well as the general public need to be extra careful as there is a month-long campaign period. It is true that there are restrictions on vehicles, party workers a candidate can take along with them for campaign and campaign expenses. But as the campaigns gather steam, the conditions will be thrown to the wind. That has been the usual experience.
But since this election is closely related to public health, there should be no compromise on health care criteria. This should be a pledge that parties, candidates and activists must always keep in mind.
The austere measures followed in the case of auspicious events like marriages in Covid times could be followed in election campaigns also.
Today there is no point in earth-shattering campaigns. Since it is local body elections, people may very well know the candidates in their wards or panchayats.
Therefore there is no need for organising high-octane campaigns and disturb peaceful life of people.
As people are very much familiar with campaigns, candidates could decrease the duration of campaigns. At least this could be experimented in the case of local body elections.
Each election period will be the time when promises and claims will be raining.
Since political parties are in the race as Fronts, the political dimensions of success and failure are many