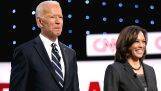 At the end of lots of uncertainties and controversies, Joe Biden was elected as 46th president of America. Giving room for the whole of India to take pride in, Kamala Harris is also there as the vice-president of America.
Though Kamala was born and brought up in America, Kamala's lineage has strong roots in India that cannot be severed.
That is the reason why her ascent to the top office is a matter of joy de vivre for all Indians.
This is for the first time in the history of America that a woman, that too, from migrant class is reaching the White House.
As Biden takes over office on January 20 next year, America will be entering a new phase. Trump's four years at office had created schism at various levels in America.
Donald Trump had created insurmountable gaps in the country with his thoughts and approach incompatible with the modern world.
That may be the reason why Biden said several times that his main duty will be to regain the unity and integrity of America.
Biden pronounced in his victory speech that he would heal the wounds of a divided nation. And Kamala Harris stated that her victory shows the success in the fight for Black women's equality. Their victory was declared after four days of uncertainty. In his victory speech Biden also said, "I sought this office to restore the soul of America. To make America respected around the world again and to unite us here at home. The dividing line between Democrats and Republics has disappeared. Now there should be just one thought that is America. The Americans received the matured notions of their 46th president with a big round of applause.
Let Biden's declaration that the new approach will be to see America as a single nation is a pointer to the imminent change in the administration.
Trump can be seen as a ruler who turned a prey of Covid pandemic. In a way what uprooted Trump was the foolish way he handled Covid 19.
Even when the whole world wore masks, Trump boasted that there was no need for it and America can hound the virus out of the country. Even later when he turned Covid positive, he was not ready to change that stand.
He condemned China for opening the can of Covid virus and stopped funding WHO, alleging partisanship. Racism and migrant laws during the Trump regime also backfired. Even during defeat he was not ready to sense people's pulse.
Biden who had contested Presidential election two times before has now been bestowed with a chance to lead America in the right direction.
Over the past four years, there were backlashes in almost all sectors. Finally, Covid also became a big menace. Lakhs went jobless. Dent in production sector shook American economy.
As far as India is considered, the nation feels that Biden will do more good to India than Trump.
But Trump's government had augured well for India. To some extent America was a protective gear for India in the face of the headaches created by Pakistan and China. Now let us hope that the new president Biden will also be willing to continue the good relationship with India.
Now what India should cash in on is Indian connection of vice-president elect Kamala Harris, who also enjoys a chance to contest presidential election after four years. If everything goes well, Kamala could become the first woman president of America.
Let us hope that Kamala, with roots in Tamil Nadu's Tulasendrapuram, will be fortunate enough for that too. During Biden's victory rally, Kamala's statement that America is a nation with immense possibilities is indeed a great message in this context.