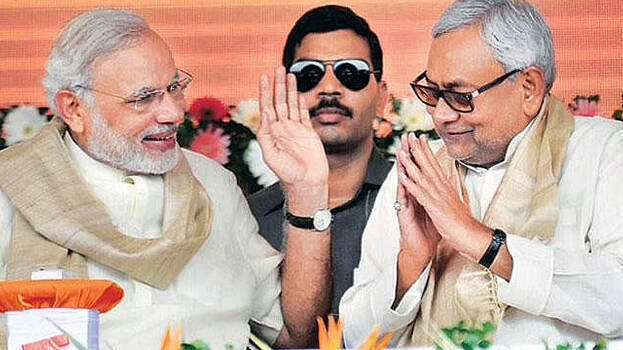 PATNA: Even though the grand alliance was able to translate the anti-incumbency factor against Nitish into votes, they couldn't earn any victory as BJP's poll strategies which centred around Modi's personality blocked plan of a grand alliance to clinch victory. Prime minister actively participated in poll rallies in the second phase of campaigning. The poll campaign in Bihar was undertaken under the strict guidelines of covid 10 protocol. Therefore, there were limitations on public poll campaigns.
But in the initial phase of the campaign itself, BJP realised that Nitish-centred poll campaign could prove counterproductive. Even his own party, JDU has only included his photo on the campaign posters, but when Modi reached state for campaigning his photo was used not by BJP but is gained key attention even in JDU's poll posters.
The existing electoral picture says that the Modi wave which started in the previous Lok Sabha polls still continues as a relevant theme across all elections in the country and it also helped the ruling NDA government in the state to surpass the anti-incumbency factor. Narendra Modi participated in 12 elections rallies held in different parts of the state. He addressed the people in these poll rallies and sought people's votes.
In Darbhanga, NDA is leading in nine out of 10 seats. NDA also has secured a clear lead over half of the seats in the state. The final result will only be issued in the evening. BJP leaders has assured JDu that Nitish Kumar will be the chief minister even though BJP has more seats than JDU.