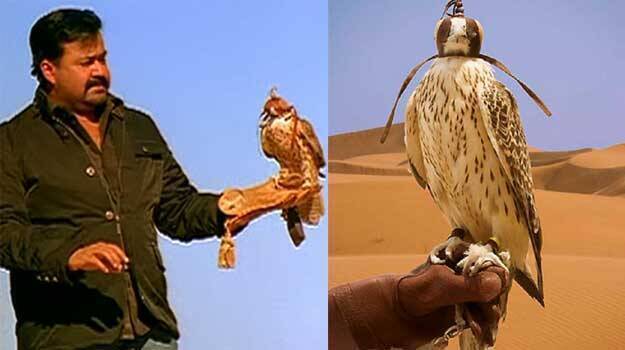 'Sagar Elias Jacky' released in 2009 is the sequel of the super hit film Irupathan Noottandu. The film was about the powerful underworld don Jacky. The film had one of the best intros in Malayalam. One thing that was noticed most in the film was the hawk used by Mohanlal to smuggle diamonds. It was not really just a hawk, it was a falcon worth four crore flown by Jacky.
Falcons are mostly seen in Arab countries. Even if the royal family need to know even the smallest of details, they make a call to Kerala. Subair Medammal, a native of Tirur Vaniyannur is an expert on these costly birds and the wealthy persons in UAE are after his advice. Kuwait Emir gifted Subair a stuffed falcon. This falcon worth about Rs 4 crore, died in an accident and after that the palace preserved the body of it by stuffing it.
Subair once was a job seeker who failed to even land the job of a helper at a hospital that only treats falcons. Now he is been invited by several nations to know about these birds.
In order to pay back his debt, Subair reached Dubai in 1994. He had the confidence of possessing a post-graduation in animal science, but the German doctor in the falcon hospital rejected his application by saying he's overqualified. Subair even went to the extent of requesting the job of a sweeper in the hospital, which wasn't a success as well. Since then he was determined to get a job after learning about falcons.
On returning from Dubai, he became a plus-two teacher. He began research on falcons at Calicut University. Subair then returned as a researcher to the same hospital that once denied him a job. In 2004, he became the first Asian to secure a doctorate for his study on Falcons. He is now an assistant professor in the animal science department of Calicut University.
Subair is the only non-Arab to become a member of the UAE Falconers Club. He is also the only Malayali member of the International Association of Falcons and American Falcon Club.
Subair has written books in three languages and has made a documentary on the life of falcons. In 2005, he started a website, falconpedia.com. His wife Sajitha is a teacher and has three children Adil, Amal and Alfa.