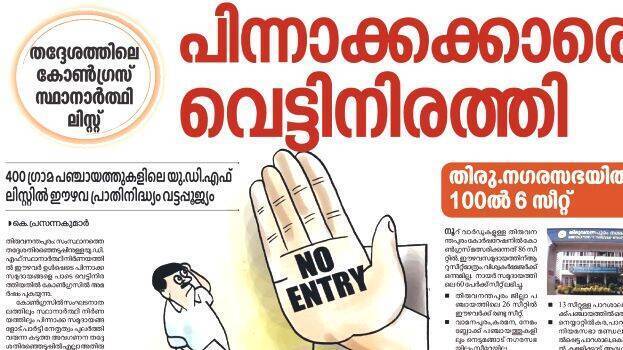 THIRUVANANTHAPURAM: Protests and resentment are raging among Congress leaders and workers over the exclusion of backward communities, including the Ezhavas, from the Congress candidate lists for local body elections in the state. A news article regarding this, published by Kerala Kaumudi, went viral on social media.
The English translation of the news reached the High Command via WhatsApp and e-mail messages. The messages were addressed to Congress president Sonia Gandhi, Rahul Gandhi, Priyanka Gandhi and working committee member AK Antony. The news was accompanied by warnings that the action of some of the state leaders against the backward communities would destroy the party in Kerala.
Many senior Congress leaders, including former KPCC presidents, are reportedly upset over the injustice done to the backwards in the nomination process. Many of them expressed their dissatisfaction with the party leadership after coming across the Kerala Kaumudi news on Monday. According to them, it would be suicidal if the party goes on to support the caste interests of A and I group managers. They also felt that such an action from the leadership can only destabilise the political situation which is in favour of the UDF.
Many even pointed out that it is shocking to see backward communities being excluded from candidature in about 400 out of the 941 grama panchayats.