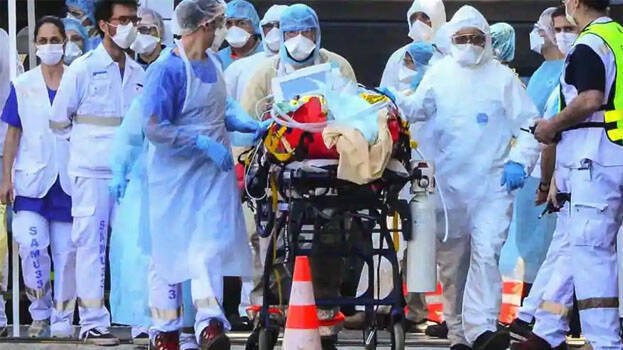 NEW YORK: The global tally of coronavirus cases stands at 57,194,529. While 39,687,611 have recovered, 1,364,511 have died so far. The US, the worst-hit country, has 12,049,640 cases, and 258,102 have died from the disease there. It is followed by India, which has 9,004,365 cases, Brazil (5,981,767), France (2,086,288), Russia (2,015,608).

Daily coronavirus deaths in the US are now averaging more than 1,300 - the worst toll recorded since May this year when New York became the original epicentre of the pandemic. More than 2,53,000 Americans are dead, morgues are running out of room in several states, and total confirmed infections have blown past 11.7 million. The single biggest case count came on Thursday - nearly 188,000. More than 80,000 are hospitalised.

In Texas, the border county of El Paso has job postings for morgue workers and is offering nearly $30 per hour for what it calls "emotionally taxing" work. Refrigerated trucks have been pressed into service as morgues run out of space for the dead. Schools are shuttering and going all virtual, colleges are asking students to go home, the US Centers For Disease Control and Prevention is asking Americans not to travel and suddenly, US health officials crawling out from under the furniture after Trump's loss at the ballot box are begging people to mask up.

Russia has reported 24,318 new Covid-19 cases, the country's Covid-19 response centre said. Russia's cumulative number of coronavirus cases has mounted to 2,039,926, including 35,311 deaths and 1,551,414 recoveries, the centre said in a statement.

Moscow reported most of the new cases with 6,902 infections, reaching a cumulative case count of 539,970, the centre said. So far, more than 71.2 million tests have been conducted in the country, Xinhua reported.

Hong Kong has banned Air India flights from Delhi till December 3 after a few passengers on its flight earlier this week tested positive for COVID-19 post-arrival, a senior government official said on Friday. This is the fifth time Air India's flights from India have been banned by the Hong Kong government for bringing passengers who tested positive for the viral infection after arrival.

The previous bans on the airline's Delhi-Hong Kong flights were from August 18 to August 31, September 20 to October 3 and October 17 to October 30, and on its Mumbai-Hong Kong flights during October 28-November 10.

India has reported 45,882 fresh Covid-19 cases in the past 24 hours, taking its tally past the 9-million mark. The country's death toll has mounted to 132,223. At 17,63,055, Maharashtra has the highest number of coronavirus cases, followed by Karnataka 867,780, Andhra Pradesh 858,711, Tamil Nadu 764,989 and Kerala 545,641. Delhi recorded 7,546 fresh coronavirus cases on Thursday, taking the infection tally in the city to 507,000, besides recording 98 new fatalities. Meanwhile, the Delhi government has issued an order whereby 42 private hospitals shall reserve 80 per cent of their total ICU bed capacity for Covid-19 patients.