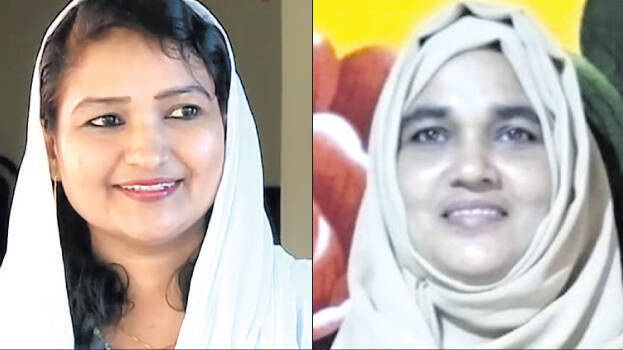 MALAPPURAM: In the upcoming local body polls, two women are going to contest from Malappuram in BJP tickets. T P Sulfate and Aysha Hussain appeared to contest in elections out of their reverence for Prime Minister Narendra Modi. TP Sulfate, a native of Kurupatta in Vaniambalam, is contesting in the sixth ward of Vandoor village panchayat and Aisha Hussain is contesting in the ninth ward of Ponmundam Panchayath. Sulfate has already started campaigning whereas Aisha's poll campaign will commence from Monday.
Sulfate says that she is the greatest fan of Narendra Modi. She said that she knows the pain of becoming a housewife at a very young age as she got married at the age of 15. The decision to increase the woman's marriageable age and triple talaq ban are bold reforms. She said that she started following BJP after Modi swore in power. She added that the party consists of members of all religions.
Sulfate who is a member of a prominent business family in the area is contesting in local body polls for the first time. Even though the party recommended her to contest for district panchayat, Sulfate was more interested to contest in her own village. Her NRI husband and relatives are the supporters of the Muslim League but she said that they have not opposed her candidature in BJP and they considered it as her personal decision. Sulfate who is a good singer is the mother of two children.
Aysha is the wife of Hussain, who is the district committee member of minorities wing of BJP. Aysha is also trying her luck in local body polls for the first time. She said that Modi's strong measures taken in the country's external security attracted her towards BJP. Her husband is also in the poll fray as he is contesting for Malappuram district panchayat from Edarikode subdivision. 42-year-old Aysha has studied up to seventh grade and she has a 15-year-old girl, who is studying in 10th standard.