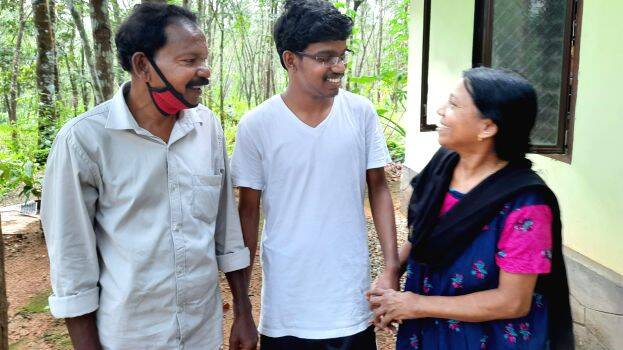 KOLLAM: Aghosh grew up seeing the pain of his mother who had been bedridden for twelve years. This planted the seeds of persistence in his mind that he should become a doctor to treat and cure his mother.
In the midst of severe financial hardships at home, Agosh's hard work came to fruition. He has now secured admission for MBBS in Palakkad Govt. Medical College.
This 20-year-old smart boy is the youngest son of Radhakrishnan and Manorama of Thevalappuram Krishnalayam in Kottarakkara. Manorama, who has been suffering from arthritis, has recently started walking again after 12 years of treatment. In the midst of the joy of that return, the dream fulfillment of Aghosh was doubly sweet. Aghosh and his two older sisters looked after their mother while she was bedridden. Despite the hardships, he didn't stop studying
Aghosh did his schooling at Thevalappuram UP School, Pavithreswaram KNMHS, and Puthur Govt. Higher Secondary School. He won A plus for all subjects in Plus Two. Aghosh told his father that he wanted to be a doctor. But Radhakrishnan, who was a private bus worker, could not afford his son's entrance coaching. It was even difficult to find the money for Manorama's medical expenses.
Aghosh wrote NEET for the first time without training but did not get a high rank. He then joined Alpha Entrance Coaching Center in Alappuzha for a low fee. He also received a scholarship of about Rs. 54,000 from the Scheduled Caste Development Department. This time he was ranked 129th in the SC category in the KEAM examination. Although there is no fee for those belonging to SC, other expenses for education should be covered. Radhakrishnan is trying to find funds for that.
Radhakrishnan, who lost his job in a private bus during Covid lockdown, is now doing work under the National Rural Employment Guarantee Scheme. All he has is six cents of land and a small house built by Neduvathur panchayat. Radhakrishnan was adamant that his three children should not be deprived of their education despite financial difficulties. Akhila, his eldest daughter studied up to MSc. The second daughter Anagha Krishnan is a B.Tech graduate. Now the family's entire hope is in Aghosh.