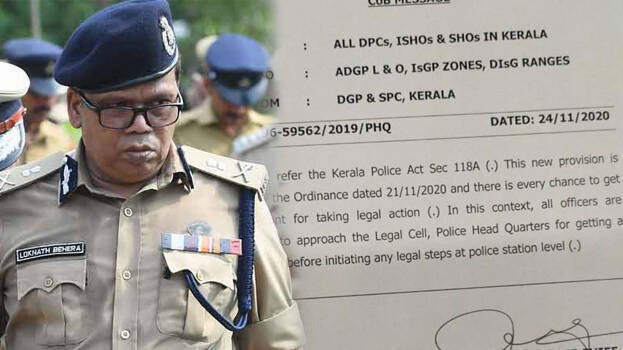 THIRUVANANTHAPURAM: State police chief, DGP Loknath Behra has directed not to register cases under the new amendments in police act. In the new circular, DGP has asked not to take fresh cases under the new police act on various complaints.
If plaints such as insult or defamation through media are received then subsequent should be taken only after contacting with officials concerned in the legal cell in police headquarters. Further proceedings on such complaints could be only taken on legal cell's directions. DGP gave his directions via the circular to all officers which also includes SHO.
As condemn and opposition mounted in the party and in public platforms against the amendments in the bill, the government was forced to withdraw it. Chief Minister said that he is not planning to implement it and further action on the act would be taken only after a thorough discussion in the assembly.
Meanwhile, the law came into effect as it received governor's assent following which it was published in the gazette. As provision 118 A is legally valid, cases could be taken even without a written complaint. A law which is valid cannot be temporarily freezed without an amendment or by legally withdrawing it.
The state government has informed the high court that it will further reform the amendments in police act. The response of the government comes when the high court took up the pleas of BJP state chief K Surendran and RSP leader Shibu Baby John, filed against the new amendments in the police act. Even though the government said that the present law would have legal standing till the reforms are implemented, the cases which comes under this act will not be registered. The high court will again take up the pleas on Wednesday.