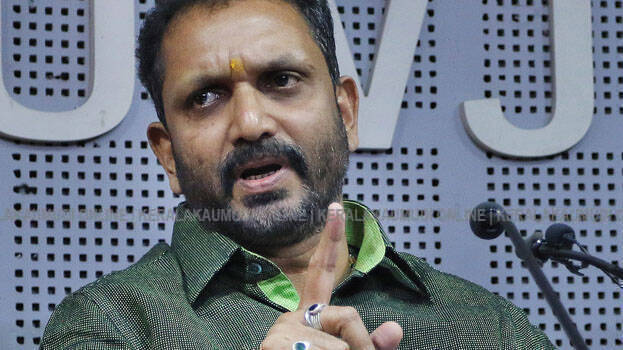 THIRUVANANTHAPURAM: BJP state president K Surendran on Tuesday alleged that both the LDF and the UDF have reached an agreement on various corruption cases in the state. Claiming that The UDF does not have the potential to face the LDF, Surendran added that the only alternative to the LDF is the National Democratic Alliance (NDA). "The BJP is the only party contesting directly against the left front. In many places, there is not even a Congress presence. The UDF cannot face Pinarayi Vijayan with that Congress," he said.
"The real contest will be between the NDA and the LDF. The UDF is clearly not in the picture. Similar to the national level, the Congress seems to have collapsed in Kerala too," he added. The Muslim League is dominating the UDF and the Christian minority, which has supported the UDF for a long time, is concerned is about this, he added. Surendran further added that with the change in the front of the Kerala Congress (M), the Congress has become weak in central Travancore.
According to Surendran, both the LDF and the UDF are in a crisis in this election. The BJP president also said that corruption would be a major topic in this election. This is a time when allegations of corruption are high against both the ruling party and the opposition. Allegations are being made against the Chief Minister and his ministers. There are reports that state ministers have investments in other states and abroad. People's tax money is being looted in the name of KIIFB by Finance Minister Thomas Isaac. Surendran also alleged that the UDF leaders were not lagging behind when it comes to corruption charges.