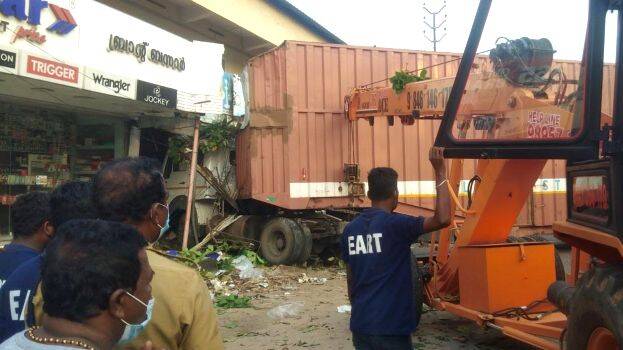 KARUNAGAPPALLY: An out of control container lorry rammed into a Devaswom board building, killing a newspaper distributor. Yusuf Kunj (63) of Kunnumpuram near Thodiyoor Vengara Kariyadi junction has been identified as the deceased. He came to Karunagapally on a bicycle from Vengara, 5 km away, to pick up the newspaper as usual. Yusuf, who was trapped for more than an hour and a half with his legs amputated, was picked up by lifting the lorry by a crane.
Badusha (57), a scrap seller who got injured in the accident, was admitted to the Taluk Hospital. Badusha was walking on the road when the accident occured. His injury was not serious. Following the crash,t he lorry driver and his assistant ran away and escaped.
The accident took place at around 5.15 am on Friday. A container lorry with cars coming from Bangalore to Kollam Pallimukku smashed on to a divider on the National Highway and crashed into the opposite building. Agents and distributors were counting newspapers on the veranda of the building which houses the office of the Devaswom Board Karunagappally Assistant Engineer and and a shopping complex.
Though everyone ran on seeing the lorry's arrival, Yusuf's baby was trapped between the cement deck and the lorry, . He was brought out from under the lorry after it was lifted at 6.45 am. He was rushed to hospital but could not be rescued. Wife: Leela. Daughter: Priya. Son-in-law: Babu (late).
The police have registered a case.