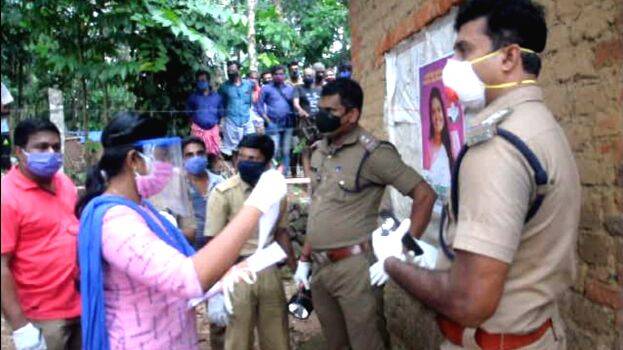 VITHURA: Man was bludgeoned to death and his corpse was kept in the kitchen by a friend. When he was about to be caught, the friend buried the body under a bed and fled the scene. The shocking incident took place at Pattankulichapara in Vithura.
Madhavan (55), son of Thiruvan and Narayani of Kochukarikakam in Pattankulichapara has been identified as the deceased. Police are searching for his friend Tajuddin, 60, of Thadatharikath house in Vempura.
Police said the murder took place three days ago. Madhavan is a regular visitor to Tajuddin's house, where he lives alone. The two are not married. They are also accused in various cases. Police believe that Madhavan may have been beaten to death in a dispute after getting drunk. There is a deep wound on his head. There are bruises on the body in many places. Residents say they heard loud noises in the house on the day of the incident.
After an odour erupted from the house on Saturday, the laborers who were working nearby went and found blood in the kitchen area. Out of suspicion, they informed the Vithura police. The body was found buried under the bed during a police search.
Madhavan's body was found half decomposed. The decomposing body is believed to have been buried yesterday morning. Hair and flesh lay loose here and there as the body was dragged from the kitchen to the bedroom.
Some people saw Tajuddin at home yesterday morning as well. According to police, Tajuddin may have escaped after burying the body. The body was shifted to Thiruvananthapuram Medical College Hospital.
Vithura Circle Inspector S Sreejith and Sub-Inspector SL Sudheesh said that an intensive search was underway to nab Tajuddin.
Rural SP Ashok Kumar and DYSP Umesh reached the spot. The forensic team and fingerprint experts conducted examinations.