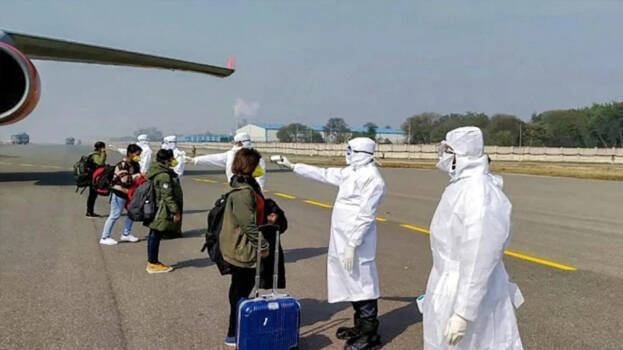 NEW YORK: The global tally of coronavirus cases stands at 63,573,952. While 43,971,469 have recovered, 1,473,445 have died so far. The US, the worst-hit country, has 13,916,348 cases, and 274,324 have died from the disease there. It is followed by India, which has 9,463,254 cases, Brazil (6,336,278), Russia (2,295,654), France (2,222,488).
Meanwhile, UK Prime Minister Boris Johnson said on Monday he hoped that two promising coronavirus vaccine candidates would be approved shortly. The Medicines and Healthcare Products Regulatory Agency is yet to greenlight the Pfizer-BioNTech and Oxford-AstraZeneca co-labs.
Johnson stressed that his government could not let the optimist "run away with us." But he added there was every reason to believe that a working vaccine could turn the tide in the struggle against the virus.
The Chinese mainland reported eight new imported Covid-19 cases on Monday, bringing the total number of imported cases to 3,866.

Whereas France today registered 4,005 confirmed cases of COVID-19 and 406 deaths from the disease in the last 24 hours, while the number of hospitalized patients continued a downward trend, data released by health authorities showed.

Since the pandemic outbreak, a total of 2,222,488 people have been infected with the novel coronavirus, of whom 52,731 have died.
Two new imported cases were respectively reported in Shanghai, Fujian and Sichuan, and one each in Beijing and Shaanxi, the National Health Commission said in its daily report on Tuesday, Xinhua reported.
India has reported a significant drop in the number of fresh Covid-19 cases, taking its tally to 9,463,254. The country's death toll stands at 137,659. With 1,823,896 cases, Maharashtra has the highest number of coronavirus cases, followed by Karnataka 884,897, Andhra Pradesh 868,000, Tamil Nadu 781,915 and Kerala 599,000. Delhi recorded 3,726 fresh Covid-19 cases, the lowest in 15 days, while the daily death toll crossed the 100-mark again and stood at 108. India reported a drop of 7,004 active cases on Monday, the biggest single-day drop since more than ten days. Overall, India recorded a drop of over 135,000 active cases during the month of November.