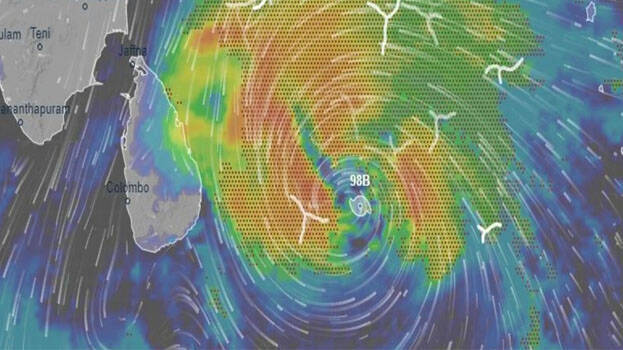 THIRUVANANTHAPURAM: Cyclone Burevi will cross Sri Lankan coast on Wednesday. Maximum wind speed of the cyclone will be between 75 and 85 km in Lankan coast. By Friday early morning, the cyclone will enter southern Tamil Nadu via Kanyakumari.
Even though the cyclone's path is yet to be determined, it is expected that heavy rains and strong winds will lash Kerala coast. If the wind doesn't intensify in Lankan coast, cyclonic storms are likely to occur in Kanyakumari district and southern Kerala. Meanwhile, if the storm intensifies in Srilankan coast, it might subside when it reaches in the south Indian coast.
Sea will become turbulent in the wake of the cyclone. Waves might heighten up to 3.5 km. IMD has already given alert messages to fishermen and has asked them not to venture into the sea. Orange Alert has been issued in Thiruvananthapuram, Kollam and Pathanamthitta districts and these districts will be under red alert from Thursday. Other districts till Palakkad have been served with yellow alerts and Thursday they will have orange alerts.