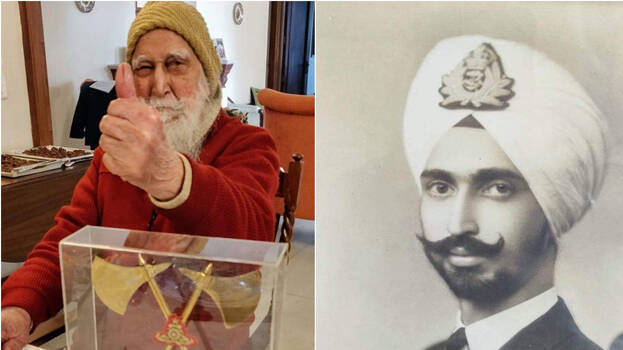 NEW DELHI: Colonel Gill was born in 1920 in Patiala and went on to study at Government College in Lahore. He joined the Royal Air Force in 1942 and was commissioned as Pilot Officer. He then joined the Indian Navy and served on the high seas. Finally, he was designated as a Gunner Officer with the Indian Army. He retired as a Sector Commander with the Assam Rifles in Manipur.
On the occasion of his 100th birthday, netizens wished the veteran on social media. Punjab CM Captain Amarinder Singh tweeted his wishes for the colonel. "Congratulate Col. Prithipal Singh Gill who turns 100 today. He bears the unique distinction of having served in all the three Armed Forces. Sir, wish you many more years of good health and may you continue to always inspire all of us."
Lieutenant General (retired) KJ Singh also wished Colonel Gill on Twitter telling the veteran officer's exceptional military journey. "Col Prithipal Singh Gill (without family consent) joined the Royal Indian Air Force and was commissioned as Pilot Officer stationed at Karachi, flying Howard aircraft." His Air Force career came to an end after his father forced him to leave due to safety concerns.
Colonel Gill served in the Indian Navy on a mine-sweeping ship and INS Teer. He also served as a part of a navy escort team for cargo ships during World War II. In an interview with the Tribune in 2019, Colonel Gill said: "During World War II, I used to undertake escort duties for maritime convoys proceeding from the Indian mainland to the Persian Gulf."
After that, he was trained at the School of Artillery in Devlali and went on to serve in the 1965 war. He was posted to Gwalior Mountain Battery. Colonel Gill had served in almost all theater commands, including Jammu and Kashmir, Punjab, and the Northeast before he retired as Sector Commander in Imphal.
Reminiscing about his experience of the 1965 India Pakistan war, Colonel Gill told The Tribune that during the war, the Pakistanis had enveloped one of their gun batteries, but they went after it and got them back. "For a gunner, his guns are sacrosanct and revered and just cannot be given up," he said.
Incidentally, Colonel Gill's father, Harpal Singh, was also a veteran and served as a captain in the Army. Colonel Gill was introduced to Arjan Singh, the Indian Air Force icon who went on to become Marshal of the Air Force, through his father.