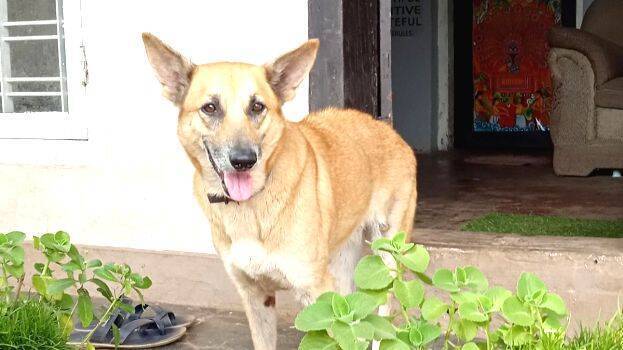 PARAVUR: Julie, a dog who was tied up in a car the other day, has a story to tell about surviving the flood. Washed away by the floods, she reached the eastern part of Chalakka Sree Narayana Medical College in 2019.
In front was a house next to the house of Yusuf, who dragged Julie along the road by tying her on to his car. Julie was taken over by the occupants of the house, which was given on a rental basis by Yusuf. She also later became Yusuf's favorite.
Julie disappeared six months ago. Yusuf found her after searching. He decided to abandaon the dog after male dogs became an annoyance.
Kunjan the hero
The dog that first tried to stop Julie from being dragged along the road was a dog from the next house named 'Kunjan'. He can be seen running with Julie in the video.
Several times he got in front of the car and tried to stop it. When Yusuf abandoned Julie on the road, Kunjan stayed with her until the rescuers arrive at 6 p.m.
Kunjan is the a dog of Chalaka Ramanthara Unni's house.
It was wrong, please forgive: Yusuf
It was wrong, please forgive, it was not done knowingly. I am ready to accept any punishment, these are the words of Yusuf. He decided to abandon Julie when he could not stand the annoyance of other dogs. Yusuf tied Julie to the car when he could not get her inside the boot of the car.
Yusuf, who was arrested on Friday night, was released on bail around 1am.
Stone pelted at Yusuf's house
A group of two men in a car hurled stones at Yusuf's house yesterday afternoon. Two window panes are broken. Yusuf and his wife live there. Two children live abroad. He is a driver at the taxi stand in Athani for two years. Fearing attack, Yusuf moved to his family house.
Rush to see Julie
Many people came to visit Julie yesterday at Krishnan's Parakkad Math in KK Agraharam in Paravur Kannankulangara. . Julie is recovering. Krishnan's hobby is to protect such dogs from the street.
He has 16 such dogs. Krishnan, an English teacher, spends a large portion of his income on dogs. His brother Arjunan, Melshanthi of Ezhikkara temple, is also there to help. Krishnan is an activist of the animal welfare organization Daya.
Several people volunteered to take over Julie even from abroad.
The injuries are not serious
Dr. Chandrakanth of Paravur Govt Veterinary Hospital said the dogs injuries are not serious. Roddy has bruises on his legs and body. There are dry wounds and scars on the body.
The new name is Abbakka
Daya Animal Welfare Organization has given a new name to Juli- Abbakka. Abbacca, a queen who fought against the colonial rule, was of Chowta descent who ruled the coastal region of Karnataka.