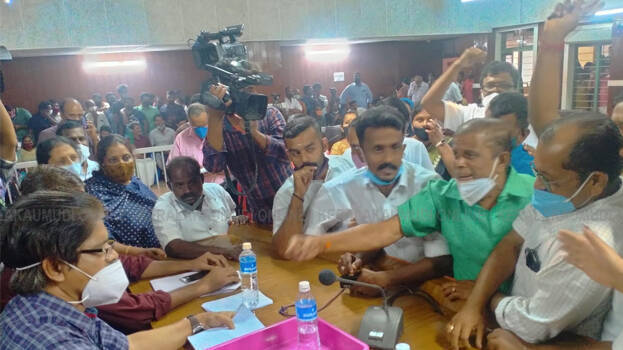 PALAKKAD: Opposition's protest over BJP member getting back ballot paper citing that she voted for the wrong candidate, has led to pandemonium in the apex law-making body in the district. BJP member Nadeshan has received back his ballot paper as he claimed that he mistakenly voted for the left candidate. With this, Congress and CPM members entered into the dais of the hall demanding to nullify his vote.
Even though the presiding officer said that all other votes except Nadeshan's could be counted, that proposal was unacceptable to members of the opposition. Later it was declared that Nadeshan's vote will be nullified. Whereas BJP said that it won't accept the decision. Even if the vote is nullified, BJP can get a majority in the chairman election. Following the election-related pandemonium, it has been decided to conduct voting via secret ballot. The election would be held excluding the BJP member who cast his vote to the wrong candidate.
BJP has majority in the municipality as they have won 28 out of 50 seats. BJP members Priya K and Advocate E Krishnadas are contesting to the post of Chairman and Vice-Chairman in the municipality.