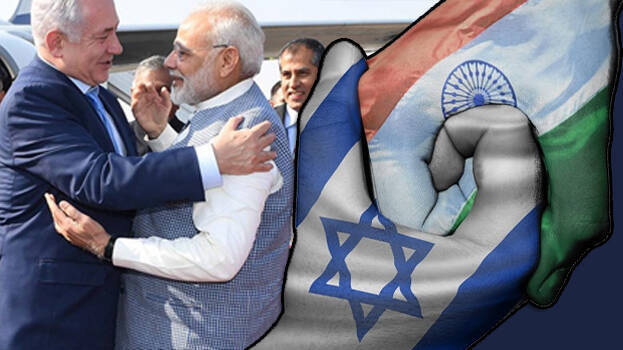 NEW DELHI: On December 17, Ron Malka 'officially' announced that the Jewish nation would provide whatever 'friend' India needs to defend itself. The announcement assumes significance in view of the emerging geopolitical scenario during the COVID-19 pandemic.
First, it was the UAE, then Bahrain, Sudan, and Morocco followed by establishing their full diplomatic ties with Israel. The Kingdom of Saudi Arabia (KSA) is likely to follow suit. Pakistan has desisted and is isolated from the Arab states, which are all soon to embrace Israel.
Pakistan is having a sword of Damocles hanging on it as it faces a veiled threat from the KSA of curtailment of job visas to its citizens in the same manner as the UAE has already done. India has proposed a 'replacement' by its workforce. Israel wants Pakistanis to be shunted out of the KSA and the UAE. China too has been forced to 'cut a sorry figure' as now the whole Middle-East market would be for the US to monopolize.
Israel won't be found wanting in meeting India's requirements to defend itself against all challenges and hostilities although such cooperation is not directed against any other country (read Pakistan and China), Israeli ambassador Ron Malka told the Hindustan Times.
Malka was careful in his statement upon being asked whether India had made any defense equipment requests amid the conflict with China, saying, "Since we have a strong friendship, whatever India needs from Israel to defend itself, we are there and available to India because this is how we manage our friendships and especially a precious friendship like with India."
"But I have to stress that we are not against anyone, we have enough (problems of our own), so we are not against anyone but we are in favor of India…and we also trust India and the bold and strong leadership of India, that India knows how to manage its affairs wisely," HT quoted him as saying.
He indicated that India didn't need Israel against any country, rather "you need us to share with you the experience and practices since we share similar challenges and similar hostilities (from Arab neighbors like India faces from Pakistan)."
India facilitated the opening of the Israeli embassy in Bhutan on December 12. It is certain that in the probable face-off with Pakistan and China, Israel will openly stand with India, more particularly, after the signing of BECA with the US, as the US and Israel are two inseparable allies for the last 70 years. Ironically, the KSA and the US also fall under the same category.
Therefore, a declaration from Ron Malka was just a formality as now Israel will provide technology, weaponry, servicing, intelligence, surveillance, reconnaissance, media, radar systems, drones or Iron Domes, etc. to India. It may even lead to Israel's actual participation in the war from the Indian side, as that is what the word 'whatever' used by Malka implies.
But the big question is how would Israel help? The possibility of Saudi Arabia providing its airbases to Israel from where its fighter jets would attack Pakistan just cannot be ruled out, given the hostility Saudi Arabia has shown since August 6 when the Pakistan foreign minister had distanced himself from the KSA-run Organization of Islamic Countries.