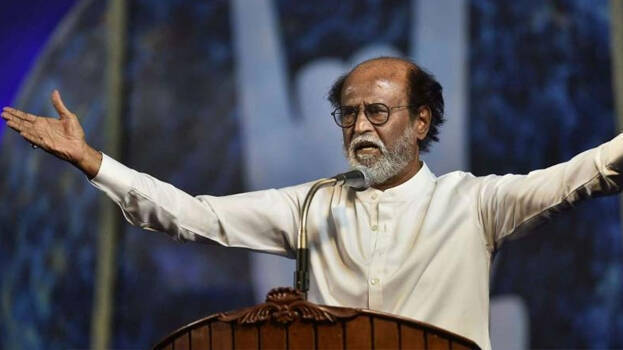 CHENNAI: Even though the Tamil superstar has put an end to rumours on his political journey with his public announcement that he won't step into politics, still discussions are going on among all political parties in the state on who will garner the film legend's support. RSS ideologue Gurumoorthi has said that Rajinikanth will make crucial statements in support to NDA in the upcoming days.
Rajini's political opinions and stand on public issues have always influenced the voters in the past. Gurumoorthi said the political stand taken by Rajini in 1996 was detrimental to DMK's rise to power. Therefore his support and stand will benefit those with whom he stands.
Though the superstar has abstained from the formal announcement of a political party, there is still a strong possibility for Rajini to declare his support to any political regime in the state. Rajini has also informed the 'Makkal' that he will continue to serve the public and will always bat for the truth.
His informal party Makkal Neeti Mandram, which have a deep party organisation starting from booth level to the state headquarters can take his ideas and opinions to every nook and corner of Tamil Nadu.
C.T. Ravi, the BJP's national general secretary in charge of Tamil Nadu said Mr Rajinikanth's decision was his private affair but that the NDA was still hoping for a declaration of support from the latter, despite the cancelled plans for a political party.
"As to why Rajinikanthji decided not to float his own political party, is a personal decision by him, but, I very much hope and expect that in the interest of the country and Tamil Nadu he will extend support to the NDA. As a member of the BJP it is my hope that his considerable influence is with us," Mr Ravi said.
Senior AIADMK leader and state minister D Jayakumar reacted to the decision of superstar Rajinikanth of not forming his political party ahead of the Tamil Nadu Assembly polls. Exuding confidence, he claimed that even if Rajinikanth does not enter politics, "we believe that AIADMK will get his support."
Meanwhile, Rajinikanth's elder brother backed the Tamil superstar's move to withdraw his decision to launch a political party. The 77-year-old R Sathyanarayana Rao said it's his brother's wish and one can't force him to change his mind.
'I will serve the people'
In a massive development on Tuesday, actor-politician Rajinikanth announced that he will not be starting his political party, citing health concerns. "Without entering electoral politics, I will serve the people. This decision of mine will disappoint my fans and people but please forgive me," Rajinikanth's statement read.
Meanwhile, a leader of Kamal Hassan's MNM said,"We believe that our leader and Rajinikanth share good friendship and mutual respect for each other. There was a good chance of the two parties joining hands as both the leaders had the same intension of providing alternative and clean politics. But one cannot criticise his decision as it concerned his health condition."
Rajinikanth, who has a large following in the State, could still help achieve political change by backing MNM, he added. "If he still wanted to a political change in the State, it could be achieved by backing Kamal Haasan," he said.