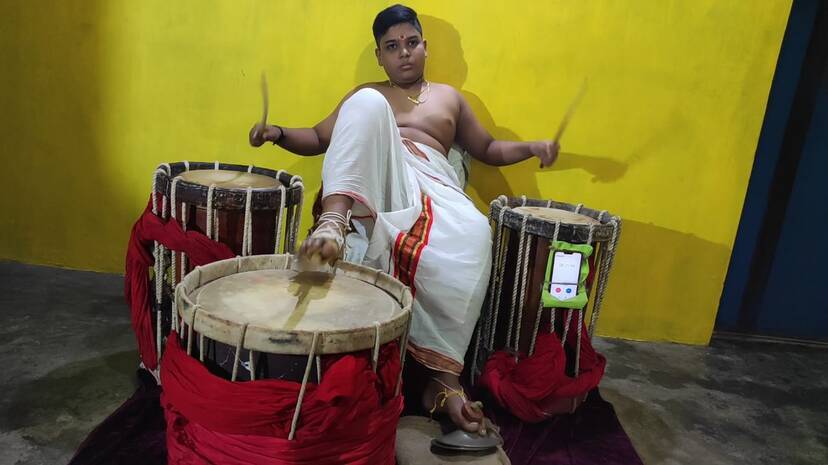 THIRUVANANTHAPURAM: S Sreerag, son of Omanakuttan and Shaila, of Vazhottupoyka house is a record-breaking Chenda percussionist. He does wonders as his performance involves striking three chendas with two hands and one foot while the left foot strikes rhythm with Ilathalam.
This eighth-grader made his way to the Indian Book of Records and later to the Asian Book of Records.
The next goal is to reach the Guinness Book of World Records with a two-hour continuous percussion performance. Omanakuttan, who used to go to temples for 'chendamelam', once stood outside and heard melas at home in a good rhythm. When he went to check it out, he saw a five-year-old Sreerag beating the chenda with astounding rhythm. Recognizing his son's talent, Omanakuttan took him to Surendran Asan. Sreerag is now a disciple of Venu Asan.
At the age of seven, he made his debut by performing at the nearby Bhadrakali Devi Temple. He also learned drums, keyboards and flute. Sreerag's dream of creating a record was given wings b Kavitharani, a teacher at Vattapara Lourdes Mount School. Sreerag's courage doubled with the support of his elder brother Siddharth, a student of KUFOS.
Now he needs a sponsor
A Guinness World Record can be made with a chenda percussion performance of two hours. Another record can be created in ten hours. But it all comes at a cost. The judges must be brought in. This will not happen without the help of someone as Sreerag continues to train in the hope of getting a good sponsor for it.