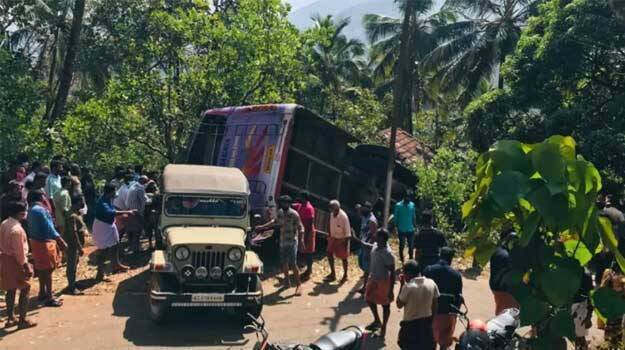 KASARGOD: Seven including two children died after the bus carrying a marriage party overturned and fell on top of house at Pariyaram on Panathur Sullia road in the district. All the killed are natives of Karnataka. Many others sustained injuries.
The bodies of Shreyas (13), son of Narayana Naik of Arthamulla, Sullia native Ravichandra (40), his wife Jayalakshmi (39), Belnadu native Rajesh (45) and Sumathy of Puthur are at Poodamkallu. The body of a child is in Kanhangad hospital. Four died on the spot and others on way to the hospital. Of the 46 injured, the condition of 11 is stated to be serious.
The injured has been admitted at various hospitals in Kanhangad.
The bus involved in the accident was carrying bride's party from Ishwaramangala in Karnataka and was proceeding to Karikka Chethukayam. The accident happened at 11.45 am. The bus which lost control overturned on top of a house owned by Bhaskaran nearby. The house has been partially damaged. There was nobody in the house.
Initial reports said there were seventy people in the bus. Rescue operations are progressing.