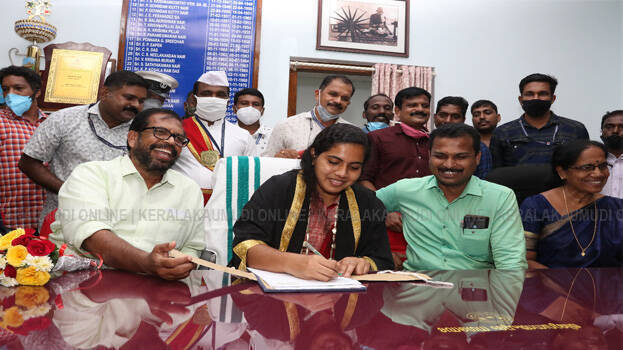 THIRUVANANTHAPURAM: Though an official residence for the mayor of the capital city was planned years back, it has not been materialised so far. It got disrupted after land was identified, plan designed and contract given. The official residence cropped up again after learning that Arya Rajendran is staying in a rented house where a vehicle won't enter.
A plan for an official residence started when V Sivankutty was the mayor. Former mayor V K Prashanth speeded up further proceedings. A decision was taken to construct a mayor's bhavan at a cost of Rs 8 core at Barton Hill in Kunnukuzhy ward in the capital city. There was an agreement with corporations to share the construction expenses equally as the building has the facility to accommodate other mayors reaching the capital.
The three-storied building will have the mayor's office and an auditorium on the first floor. Accommodation for mayors of other corporations will be on the second floor and Thiruvananthapuram mayor's residence will be on the third floor. The place where Anganawadi is located in Barton Hill was found for it. It was decided to shift Anganawadi to the community hall nearby. The construction could not start when some residing nearby opposed. The construction will begin after taking the people into confidence.
Thiruvananthapuram Mayor Arya Rajendran is staying in a rented house in Mudavanmugal. A vehicle will not reach her courtyard. When contacted, she said that she will continue staying in the house and has nothing else to say for the time being.
In Kerala, only Kozhikode Corporation has an official residence for the mayor. The mayor is staying in an old-fashioned building bought fifty years back near the corporation office.

Dr Beena Philip, the new mayor will soon occupy the 3000 square feet bungalow located in an acre and 30 cents of land. Ex-mayor Thottathil Raveendran had not used this bungalow. The new mayor has directed not to renovate the house by spending huge amount.
Out of the one acre, 20 cents have been given to Calicut University's Study Centre. A beautiful garden and a spacious car parking are also there. Even though the bungalow has been renovated a few years back, no changes were brought in its structure.