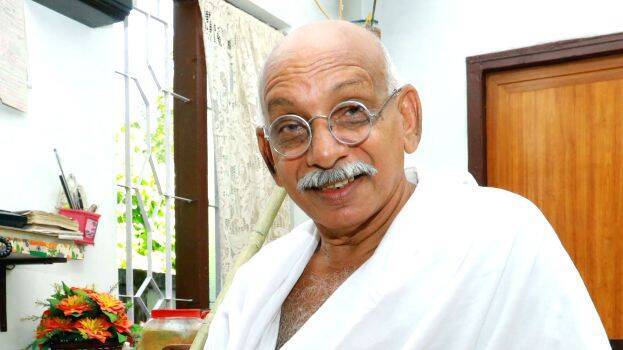 ALAPPUZHA: It has been three and a half decades since George Paul, a native of Alappuzha, started his portrayal of Mahatma Gandhi. Paul has played Gandhiji about 8000 times so far. The 78-year-old is however sad that he wasn't able to become Gandhiji this year due to the pandemic. A stage documentary titled 'Bapuji..Maap' which was presented in schools with the participation of children, combining important events in the history of the freedom struggle. This was also stopped due to the COVID-19 situation.
George Paul is at his 'Sabarmati' house near the YMCA trying to get ride of that sadness by dusting his valuable awards and making handicrafts. It is a coincidence that George Paul, who never once felt the thrill of acting, has become the last word for portraying Gandhi.
He was an employee of Scooters Kerala, a public sector undertaking in Alappuzha. He first become Gandhi in 1985 as part of the company's competitions as part of May Day. He walked from his friend Sreekandan's house in Punnaprayil to the company gate in the guise of Gandhi. He was awarded first in the competition! The Father of the Nation also came to mind when accepting the gift. Gandhi's philosophy that 'my life is my message' became a part of life. Gandhiji was portrayed by none other in the popular mega serial 'Mahaguru' aired by Kaumudi channel. Wife: Valsa. Son: Pauls, Daughter-in-law: Binu.
The actor, who was playing Gandhiji in the play 'Douthyam' by Changanassery Geetha Theaters, happened to leave due to an issue. The drama comittee was told that there was a Gandhiji in Alappuzha. Subsequeblt, George Paul acted in more than 30 venues from there on and won applause.
He played Gandhiji in R. Sukumaran's Yugapurushan and Tamil actor Sathyaraj's Periyar. He will also feature in the Tamil film 'Desathalaivar' directed by Aravind. He was lucky enough to become Gandhiji in all the serials about Sree Narayana Gurudeva. He has also acted in the short films Ho..Ram, Nerkazhcha, Pithavum Puthranum and 100 Kodi Kanavu (Tamil).