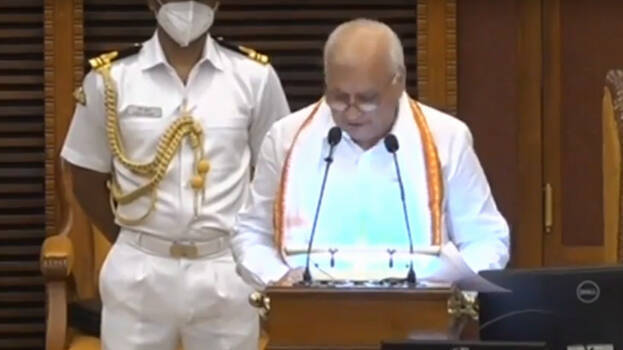 THIRUVANANTHAPURAM: Governor Arif Mohammad Khan began his customary policy address in the Kerala Assembly amidst opposition uproar. The opposition shouted slogans against the speaker and the government. They created an uproar seeking the resignation of the corrupted government. Though the opposition leader tried to speak before the customary address, it did not succeed. The governor reminded the agitated opposition MLAs his constitutional duty. The opposition boycotted the assembly when the governor continued his customary policy address.
In his policy address, Governor Arif Mohammad Khan said that this is a government that has faced many challenges. The government saw that no one starved during the lockdown. COVID epidemic affected the economy. Kerala was the first state to announce relief schemes during the pandemic period. The governor also reminded that the state provided free food kits and free medical treatment.
This is the government that implemented the manifesto. Created jobs as per the 100-day program. This is the government that was in the forefront in protecting secular values. The government had been able to get benefits from the centre. Kerala is ahead in protecting federalism.
Investors consider Kerala to be the best business friendly state. Priority will be given to the rehabilitation of expatriates. Social security pensions have been increased. Maximum employment would be ensured, he said.
Central agencies tried to undermine development
Attempt to thwart government's pride projects
Central and state governments stood together
Economic sector will be revived
Govt strengthened public sector
Has been able to gain the trust of the people in local polls