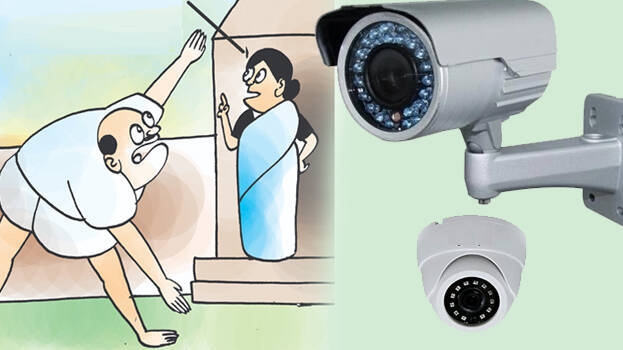 ​​​​​​KOZHIKODE: Ex-soldier Premachandran was inadvertently changing his clothes from the bedroom of the house. The visual of him changing clothes got captured on a CCTV camera set up by his neighbour and a POCSO case was filed against him for displaying nudity in front of the neighbour's 12-year-old son. Following this, he was jailed for five days. Premachandran has now approached the Human Rights Commission seeking compensation of Rs 10 lakh from his neighbour.
.
A dispute has been going on between Premachandran and his neighbour for several months. The problems started when new residents arrived near his house which was built in two and a half cents. Complaints reached the corporation office and elsewhere. The distance between the two houses is only six feet.
As the dispute escalated, the neighbour set up seven CCTV cameras that could capture the visuals from the porch, living room, bedroom, backyard, balcony and courtyard of Premachandran's house. All family members, including Premachandran's 15-year-old daughter, started feeling uncomfortable because of the CCTV cameras pointed against them.
That was when the POCSO case was registered. Premachandran was arrested on December 26. Due to the Christmas holidays, his bail plea was considered by the POCSO Additional Sessions Court only on January 1. He was granted bail on the same day.
Premachandran wants compensation for being imprisoned in a false case. He also lodged a complaint with the city police commissioner demanding the immediate removal of CCTV cameras that have been recording their privacy.
According to the complaint, the offence is punishable by up to three years imprisonment under IPC 354 (c) and a case that can be voluntarily registered to the police. Section 66E of the Information Technology Act provides for imprisonment for up to three years and a fine of up to Rs 2 lakh.