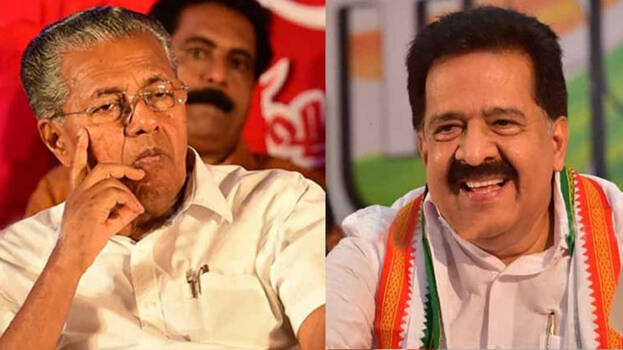 THIRUVANANTHAPURAM: Opposition and treasury benches engaged in verbal spat in the assembly. Chief minister and opposition leader traded barbs against each other in the ongoing assembly session. The chief minister told the assembly that the opposition leader approached the governor asking him to stop the investigation against him. The chief minister said this while replying to a question asked to him.
The member's question was on the vigilance probe. The chief minister's statement on the opposition leader came on the question relating to the vigilance enquiry on bar bribery case. "Bar owner Biju Ramesh has alleged that he has bribed the concerned officials and ministers to prevent the hike in the bar license fee. A discreet probe was conducted on the issue. The government is also considering a preliminary probe. Meanwhile, the opposition leader approached the governor asking him not to conduct such an investigation against him," Pinarayi said in the assembly.
With this, MLAs in the opposition bench rose up in protest. MLA K C Joseph said that giving nod to a question against the opposition leader will create wrong precedence, to which the speaker replied that there are mechanisms to check the authenticity of the question and if it is found wrong, due action will be taken.
Whereas Ramesh Chennithala said that the bar bribery case was investigated twice and his name is found in a CD relating to the case. "It was found that the CD is not a piece of genuine evidence and was forged. I have not sought any bribe and any investigation is not going to affect the opposition. These are all malicious attempts made by the government to subvert people's attention from issues concerning them," Chennithala said.
Chief minister mocked at opposition leader saying that when he speaks his own colleagues from the opposition bench is creating pandemonium in the house. "It was the festival of corruption during the previous government's time. But this government made the state corruption-free. Multinational companies are coming to the state. Large scale development is ongoing. If you (opposition) have any worries you should keep them with you," the chief minister said.
"There is nothing to be worried or to be concerned about. Those who are sitting in opposition have received people's slap. They are speaking based on their experience. Those who dipped in the pool of graft are now saying that everything associated with this government is corrupted," the chief minister said.
The CM reiterated that vigilance has limitations in investigating the case against Congress leader V D Satheeshan as the case is accepting funds from abroad and probe involves areas outside the jurisdiction of the country. Other things related to it will be considered later. The chief minister also told the assembly that CBI decided not to take up the Titanium case based on their previous understanding.