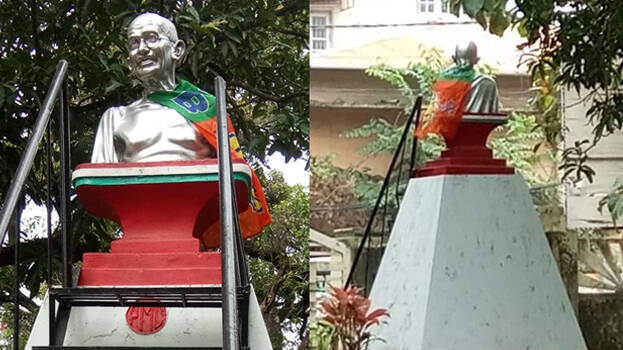 PALAKKAD: The accused in the case of tying BJP's flag on Gandhi's statue arrested. Police informed that the accused is a native of Tirunellayi in Palakkad and he is suffering from psychological disorders. He testified before the police that the BJP's flag put up in front of the district hospital in Palakkad was tied to the statue.
The 29-year-old accused who have mental issues was taken to the south police station in Palakkad after the arrest. Police said he had earlier undergone treatment for his mental illness. After reaching near the district hospital, the accused took hold of the flag and he jumped across the gate of the municipality office before finally tying the flag to the Gandhi statue. Opposition parties lashed out at BJP with allegations over the incident.
But the party rejected them and filed a complaint before the local police. Apart from BJP, the municipality has also complained to the local police.
The ruling party in the municipality also responded that a high-level conspiracy is behind the incident and phone details of the accused must be scrutinised.