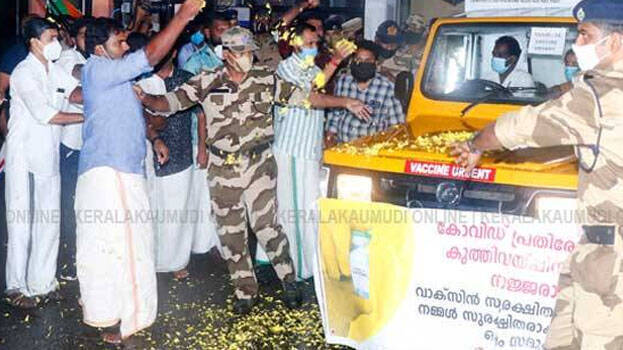 THIRUVANANTHAPURAM: The Covid vaccine will be distributed to districts today. At present, the vaccine is stored in regional stores of Thiruvananthapuram, Kochi and Kozhikode. From Thiruvananthapuram regional store, it will be taken to Kollam, Pathanamthitta and Alappuzha districts.
The vaccine will be transported from Kochi to Idukki, Kottayam, Palakkad and Thrissur and from Kozhikode to Kannur, Kasargod, Malappuram and Wayanad districts. Ernakulam will use the highest dose of 73,000. Lowest number of health workers have registered in Kasargod.
The first consignment of Covishield vaccine developed by the Serum Institute of India arrived at the Nedumbassery Airport and Thiruvananthapuram Airport yesterday. 1,80,000 doses of vaccines for Kochi have been stored in Ernakulam regional vaccine store, 1,19,500 doses of vaccine for Kozhikode are stored in Kozhikode regional vaccine store and 1,34,000 doses for Thiruvananthapuram at Thiruvananthapuram regional vaccine store.
The vaccination process begins on January 16. 133 vaccination centres have been arranged actors the state. A total of 3,68,866 have registered for vaccination. One taking the first dose should take the next dose on the 28th day.