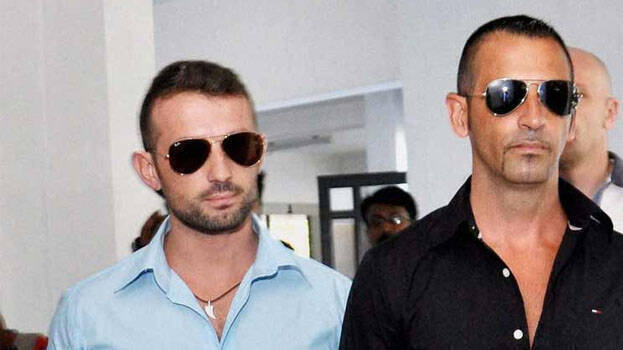 KOCHI: There is an active move to close the case against two Italian marines facing charges of killing two Indian fishermen in February 15, 2012, by giving a compensation of Rs 10 crore. The Italian marines of oil tanker Enrica Lexie, travelling off the coast of Kerala, was approached by an Indian fishing vessel. The two on board fired at the two. Valentine Justin from Kollam and Ajesh Binki of Kanya Kumari were the two fishermen killed. Efforts are being taken by the Italian Government and the centre to give Rs four crore each to the fishermen's family and Rs two crore to Freddy, the boat owner.
Talks on it had already started at the government level. It is learnt that the state government had also held talks with Italian embassy as per the directive of the central government. The Kerala Government had asked for 15 crore. However, Italy has informed that they can pay only Rs 10 crore. This move follows an order from international arbitrary tribunal.
The Arbitration Tribunal's order was issued last May. The verdict was that everyone in the boat was entitled for compensation. It was also made clear that the Italian marines who shot the fishermen could not be cross examined in India. Others on the boat had complained to the central and state governments against the tribunal's decision to close the case by paying compensation only to the dependents of the dead and the boat owner.
There were a total of 11 people on the boat. A 14-year-old minor identified as Prijil was also on the boat. A complaint to the government asserted that he is also entitled for the compensation. Italy's Rs four crore will be given to Justin's wife and two children and four crore will be handed over to two sisters of Ajesh Binki. They were earlier compensated Rs 2 crore. The incident happened at Neendakara in Kollam.