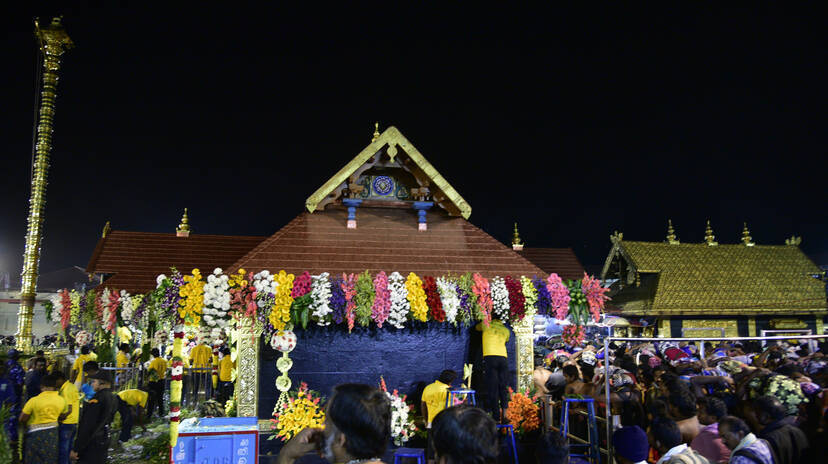 SABARIMALA: Amid restrictions due to COVID-19, thousands witness the temple's annual Makara Vilakku festival. The Makara Vilakku, celebrated in the latter half of the Makara month (in the Malayalam calendar) started with the Thiruvabharanam.

Prior to the opening of the doors of the shrine, the deity was decked up with the royal jewels or Thiruvabharanam and brought to the 18 steps of the sanctum a little after 6 pm. Devotees chanted Ayyappa's name and devotional songs. The doors of the sannidhanam were then opened for Deeparadhana, which is a pooja performed with lamps, at around 6.40 pm.
After the Deeparadhana, devotees prayed looking at the Makaravilakku.

The significance of the Makara Vilakku is in the Makara Jyothi star which is worshipped by devotees during the Makara Sankranti festival on January 14. According to lore, the star or Makara Jyothi is believed to be Lord Ayyappa showing himself to the devotees to bless them. Only 5000 devotees were allowed Makaravilakku darshan at Sabarimala this time.

During the festival, a sacred lamp or the Makara Vilakku is lit in the neighbouring hill of Ponnambalamedu, a few km away from Sabarimala and this is worshipped by devotees who view it from the Sannidhanam.
Meanwhile Travancore Devaswom Board president N Vasu said it was a challenge to facilitate darshan amid the Covid restrictions. He added that the darshan was hassle-free and talks need to be held with persons including the Tantri about increasing the days of pilgrimage.
Devaswom Minister Kadakampally Surendran's request seeking donations from devotees is due to the financial situation of the board. The board cannot function with the help of the government alone. Expecting donations from those who love temples and can help, he said.