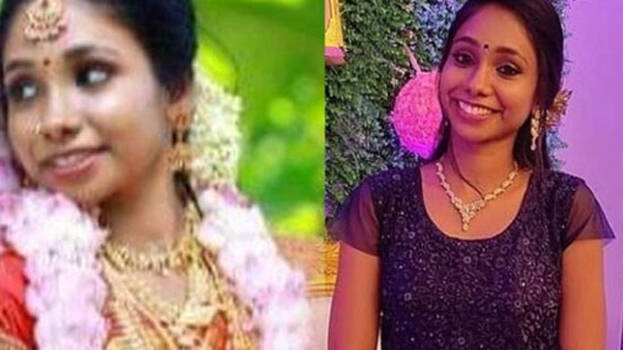 THIRUVANANTHAPURAM: Mystery shrouds the death of 24-year-old Athira, whose body was found in the bathroom of her house in Kallambalam. According to the girl's relatives, she died under mysterious circumstances and there was no possibility of her committing suicide. She was found dead with her throat cut and cut marks were found on the veins of both her hands. Although police are investigating the possibility of murder, all preliminary evidence points to suicide. The bathroom was found locked from inside and the knife used to inflict injuries were also inside. All these points to a case of suicide.
The police is not able to find the reason for the suicide. The couple Sarath and Athira were very happy after the marriage and there were no issues between them. Although Sarath and his parents were questioned several times on suspicion but no sign of a family fight could be found. The police said that when examined the phone records, their statements were found true. Police said there were no signs of any torture or any force used on her body.
The police is trying to find why her mother reached home on the day she died. Sharath with his father had gone to the hospital on that day and his mother went for work. When Athira's mother came home to meet her, she could not see anyone in the house and so she waited for Sarath to come. They all searched for her and found the bathroom locked from inside. He broke its door open and found Athira lying in a pool of blood and dead.
The arrival of Athira's mother had already raised suspicions. When asked why she came, she said simply. The police are hoping that the truth will come out by checking whether Athira's mother's statement is true or not and subjecting Athira's mobile phone for scientific examination. They are moving forward with efforts for it. Her mother said that her daughter will never commit suicide.