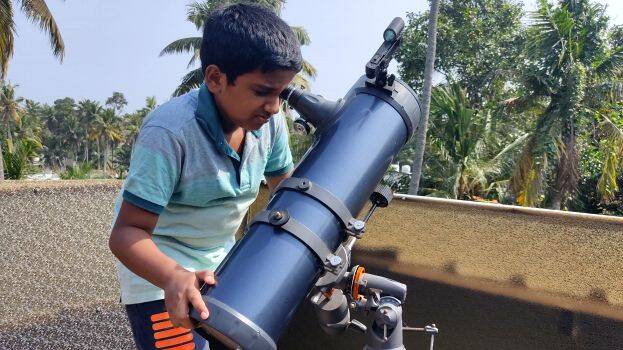 THIRUVANANTHAPURAM: From the terrace of his house in Anayara in Pettah, Arjun's eye sees the wonders of space. 10 years old Arjun Sooraj has set up an observatory telescope on the terrace of his house here.
Celestron Astromaster 130EQ is handled like a toy at a small home observatory in the house.
Arjun is a sixth class student of Lecole Chempaka School at Sreekaryam.
The turning point came when Arjun was seven as he saw and read Stephen Hawking's 'A Brief History of Time' at a relative's house, which opened the doors to universal knowledge. The mind of the second-grader began to float in space. He read the book over and over again for three years. Time and the cosmic wonders that transcend time became doubts. Then it turned into questions. The questions were first to the teachers at Lecole Chempaka and later to the scientists.
His friends are scientists at ISRO and NASA. The curiosities include the SpaceX, the Falcon rocket, and the quest for folklore outside the Solar System.
Father Sooraj Vijayan, a health department official living in Kilikunnam Lane, Pettah Anayara, and his mother Nisha set up books, telescopes and other experimental facilities for their only son at a huge cost.
Arjun is busy with lectures and so on. There are also programs by progressive groups such as the Essence Club, which raises awareness against superstition. This little genius is now working on a book on space science called "A Peep Into the Universe".
Arjun was in the news when he traveled to Malappuram with equipment to watch the solar eclipse in 2019. His wish is to work in SpaceX in the future.
Arjun's sparkle of genius
More than 150 space workshops
More than thirty space lectures
Cos‌mosArjun- YouTube channel
More than one million fans on the #channel
Member of several scientific associations.