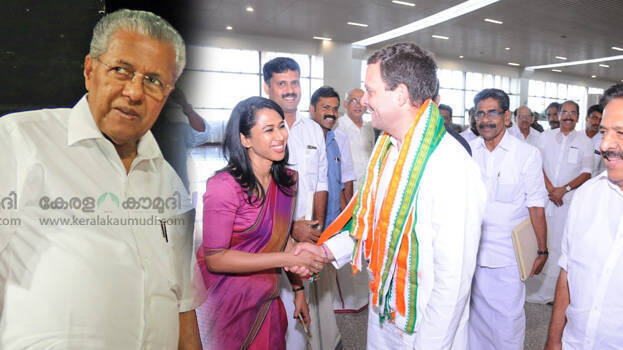 KANNUR: UDF is gearing up for a strong contest in chief minister's own constituency, Dharmadom. Even though the right front is not expecting an unexpected win, especially in Dharmadom where Pinarayi Vijayan was elected for the last time with more than 30,000 votes, UDF would like to present a strong fight. This time Congress has devised a new strategy, they think that if a strong contest is presented then they can pressurise both chief minister and LDF, thus Pinarayi who is going to campaign for the front across the state could be limited within his own constituency.
Shamma Muhammed, the national spokesperson of the party and a native of Cherukallayi, Mahe is being actively considered for the party, to contest from Dharmadom. Strong moves are being made in Dharmadom to field Shama against chief minister Pinarayi Vijayan. After receiving Rahul Gandhi's nod Shama will set out for Kerala. Shama, who is a brilliant orator and one of the prominent women faces in Congress is also a member of Rahul brigade. Shama replaced Tom Vadakan as party's spokesperson when the latter defected to BJP.
Shamma who is currently residing in Pune with her husband and two kids has been working in Delhi for many years. The Congress spokesperson who takes part in channel discussions, defending the party is also a familiar leader to Malayalees. She began her career as a KSU activist. Later she rose to the top posts in Youth Congress and Mahila Congress. Shama who earned her medical degree from Mangaluru is also practising as a doctor. Sources say Shama has responded positively to Congress's offer to contest against Pinarayi Vijayan. Dharmadom is one of the strongholds on CPM in Kannur.