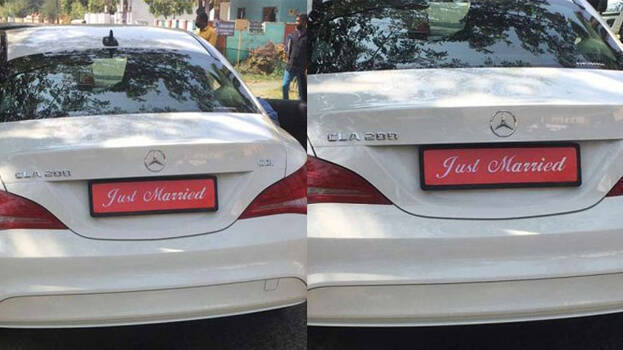 PALAKKAD: Motor vehicles department has launched a special operation to nab the Benz owner who pasted 'just married' board on the number plate and encircled the town on wedding day. The Benz car with the visible just married board was seen in Yakara area in Palakkad. The photos and videos taken by the public from Yakara became viral in social media eventually grabbing the attention of the motor vehicles department. The probe for finding the car began when the video of the car became viral on social media.
Authorities have made it clear that action will be taken against the vehicle owner for covering the number plate of the car. Police are under the impression that the number given in the vehicle's windshield could be used to find the owner and thus he/she could be held. Meanwhile, Palakkad RTO P Sivakumar has said that the same vehicle has come under police net earlier also for violation of the law.
When the vehicle was caught for the first time, it was relieved after keeping it in custody for 20 days. He also said that strong action will be taken if it is found as the same vehicle. The red boast was attached on the number plate areas after removing the original number plate.