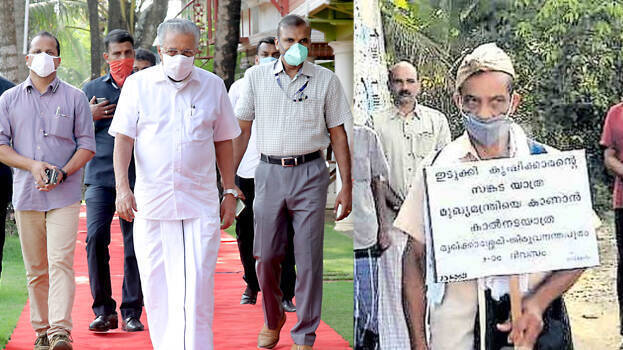 IDUKKI: It has been alleged that a farmer who came to submit a petition to the Chief Minister was detained at a lodge by the police. The farmer has been identified as Devasya Chacko (56), a native of Murickassery.
Devasya Chacko had lost his one and a half-acre farm in the 2018 floods. Since he did not receive any compensation so far, he set for Thiruvananthapuram, holding a placard, to submit a petition to the chief minister. After learning that the CM will reach Thodupuzha on Monday, Devasya booked a room at a lodge in Thodupuzha. Devasya said that two policemen in mufti came to his room on Monday morning and told him that he was not allowed to meet the CM.
Devasya was escorted by police even when he went to the nearby restaurant to have food. He was allowed to leave the room only after the chief minister left Thodupuzha.
Following this experience, Devasya decided not to Thiruvananthapuram to meet the chief minister. After the Gandhi Darshan Vedhi activists intervened in the matter, Roshy Augustine MLA met Devasya and promised him that he will go to Thiruvananthapuram on February 1 and discuss the issue in the presence of the chief minister and the revenue minister.