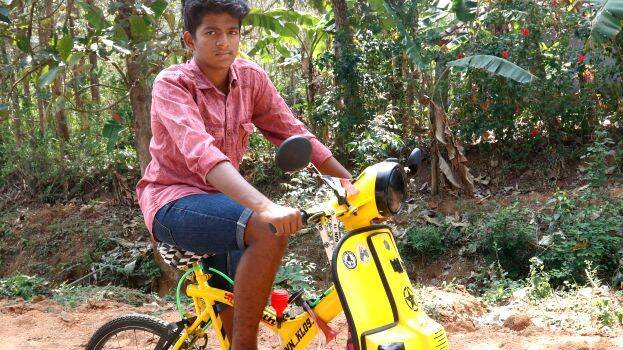 PALAKKAD: When age stood as a barrier before his dream to ride a scooter, a fifteen-year-old boy went on to turn his bicycle into a scooter. The bicycle, which has the looks of a scooter, can be driven as a scooter after attaching an electric motor. With his new design, Adith, a class 9 student of Mayannur Jawahar Navodaya Vidyalaya, has become a star at his locality and at school.
Adith's father, Muraleedharan, had a Chetak scooter. Adith's obsession with this scooter increased as he grew up. When he finally expressed his wish to ride a scooter, his father discouraged him by saying that he is not old enough to ride a scooter. The idea to turn his bicycle into a scooter flashed in Adith's mind when his father told him to look for another option.

The front body part of a chetak scooter was procured from a workshop. It was not easy to attach it to the bicycle. Adith's father and workshop workers helped him in his 27-day effort. While the front wheel belongs to the scooter, the rear wheel belongs to the bicycle. Side glass, air horn, phone stand and small toolbox were set up to give it the appearance of a scooter. Though several colours were tried on the scooter, Adith finally decided to give it a yellow colour.

Now, an electric motor has to be fitted to the bicycle. However, a special permit is required to use the vehicle on the road. Adith has submitted necessary documents to the concerned authorities.